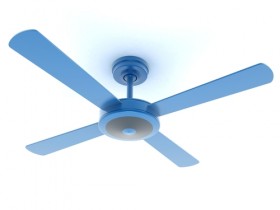 A few weeks back we published an article on Super Efficient Ceiling Fans, in which we mentioned about how the ceiling fan market is moving towards super efficient ceiling fans, and how BEE (Bureau of Energy Efficiency) is trying to push for super efficient appliances in India. Since then we have received several emails asking about super efficient fans, where they can buy them from, how much do they cost and how much electricity do they save which are the companies manufacturing them, etc. As ceiling fans contributions to the total electricity bill is significant for most of electricity bills, the interest in super efficient fans is inevitable. To find the answers to various questions we received from our readers, we decided to do a market analysis of various players in the super efficient fan segment, features of such fans, more about the technology and the cost benefit analysis. The analysis below is only a market analysis and is not a technical/functional review of the fans.
What are Super Efficient Fans and how is the efficiency achieved?
Efficiency is all about achieving the same results while using lesser electricity. Typical ceiling fans in the past (or even now) were made of Single Phase Induction Electric motor. Most of them had more use of aluminum than copper that made them cheap, but were inefficient. The result was that most of the fans consumed about 70-80 Watts of electricity. The air delivery of these fan ranges between 230 to 250 m3/min
With BEE pushing for more energy efficiency, the manufacturers increased copper content and improved blade designs to achieve more efficient fans. The result was BEE 5 star rated fans that would consume about 45-50 Watts of electricity. The resultant fans have slightly lower air delivery of about 210 to 225 m3/min (more about BEE 5 star rated fans on: BEE 5 Star rated ceiling fans: myths and realities).
The new Super Efficient Fans that are available in the market use a different type of electronic motor, which is also called Brushless DC (BLDC) motor. This new technology with efficient blade designs makes ceiling fans far more efficient, and the fans consume 30-35 Watts of electricity, which is about 50% less than the old regular fans. Some of such ceiling fans have air delivery of 220-230 m3/min that makes them almost the same in performance as compared to the regular ceiling fans. There are some BLDC fans in the market that have lower air delivery, but those fans are in the luxury segment where the emphasis is more on design, better air circulation and lower noise.
Various Brands of Super Efficient Fans available in the market
It was in February 2012 when BEE's Super Efficient Equipment Program was initiated. And ceiling fans were the first targets of the program. Since then we did hear about some of the established brands coming up with super efficient models, but to our surprise that never happened. It was through the readers of Bijli Bachao, that we got to know about 2 new super efficient ceiling fan brands that are available in the market:
SuperFan (www.superfan.in): Launched in Dec 2012, these Fans are designed and manufactured by Versa Drives, a company based in Coimbatore that has been in existence since 2010. They have 3 models, specifications and prices of which are mentioned below:
| | | | |
| --- | --- | --- | --- |
| Parameter | Model: Super A1 | Model: Super X1/X7 | Model: Super V1 |
| Sweep/Size | 1200 mm | 1200 mm | 1400 mm |
| Power Rating | 35 Watts | 35 Watts | 38 Watts |
| Air Delivery | 220 m3/min | 230 m3/min | 270 m3/min |
| Power Factor | 0.94 | 0.94 | 0.94 |
| Speed | 350 RPM | 385 RPM | 270 RPM |
| Price (online price) | Rs 3200-3400 | Rs 2500-2900 | Rs 2700-3100 |
The prices above are taken from the online store maintained by the company. The company is also giving 2 years warranty for replacing or repairing any faulty product.
The price above may look high but if you look at the calculation, at Rs 5 per unit of electricity and 8 hours of usage, a super efficient fan will save you about Rs 520 per year as compared to regular (75 W) fan. . A Super X7 model that costs Rs 2500 can pay back for itself in about 2 years based on usage and electricity price. Typically life of fans is of the order of a decade, thus for the rest of the 8 years it will provide good savings.
Along with energy savings, most of these models are remote controlled and thus do not require installation of a regulator. Thus any capital expense towards regulator is also saved, which further brings down the pay back period. A good electronic regulator would cost about Rs 200, which is saved with these fans. All with 2 years warranty, these fans look quite good money savers.
Luxaire (www.luxaire.in):  Luxaire is also a new brand, which launched recently in 2013. Operating from Bangalore, they sell imported ceiling fans that are comparable to luxury ceiling fans available in Usha Hunter range. Most of their models are designer products that consume less electricity (30 Watt) and produce very low noise. With 30 Watts of energy consumption, the electricity saving is almost 60%. Their blades are mostly made of eco friendly wood and the company claims to be producing very eco friendly products. A good look at their website would also tell you that they offer a good 10-15 years warranty on their motor. They have models in multiple sweep sizes and their specifications are comparable to Usha Hunter designer fan range (RPM of about 175). These are very quite fans and are good for rooms where air conditioners are switched on most of the time. The operation of these fans is also through remote control, which makes them quite convenient to use.
Currently we could find only 2 brands selling super efficient ceiling fans, but as there is push from BEE for the Super Efficient Equipment program, we hope to see many more brands coming up in this category. We will keep updating this page as and when we get to know about more brands producing such models.
Conclusion
On the face of it, the price of the super efficient fans look high, but if we look at current and rising electricity costs, opting for super efficient fans makes a lot of sense especially to replace the high usage fans. The current specifications of these super efficient fans look really good, and if there is good response from the market, there will be significant savings of electricity for the consumers as well as nation in the future.