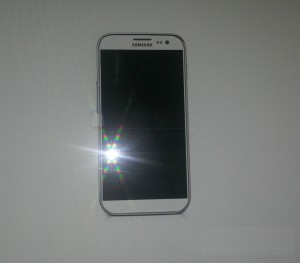 We just received a huge tip from our insider at Samsung and according to him this is the next generation of the Galaxy S series, the Galaxy S IV. We can't 100% confirm if this is indeed the Galaxy S IV but the picture he sent us looks really sharp and doesn't look fake at all. The design of the device looks also very similar to the design of the Galaxy S III and the Galaxy Premier, which makes this picture more authentic.
By looking at the picture of the device we observed a few things, the device will use on-screen buttons as there is no home-button present on the device (Finally), the bezel around the device is much thinner and the device features a large display.
We didn't get any confirmation on the specifications of the Galaxy S IV but the rumoured specifications are listed below:
– Exynos 5450 Quad-Core CPU clocked at 2.0GHz
– Mali-T658 GPU
– 2GB of RAM
– 4.99" SuperAMOLED FULL HD resolution (1080×1920) Display
– 13 Megapixel Rear Facing Camera
– 2 Megapixel Front Facing Camera
– Android 4.2.1 (Out of the box)
Reaction SamMobile:
– Source claimed to have more pictures.
– It's hard to believe.
– Mix between Galaxy S III / Galaxy Premier could make this render (press photo) looks real.
– Before the official presentation by Samsung is nothing 100% sure.
UPDATE.
Here is an image of Samsung Mobile Unpacked 2013 invitation. The Picture indicates that the Unpacked event will take place in Pyeongchang, Korea. This is also the place where the Olympic winter games will be held in 2018. Samsung to hold the Galaxy S IV press event at March 4 2013. We expect Samsung to hold Mobile Unpacked event 2013 in more than one country and not just Korea. SamMobile reported that Samsung will begin training sessions of Employees in April, this could mean that the device itself will come in early April.  This is just a photo of course, but we requested SamMobile member for more details.