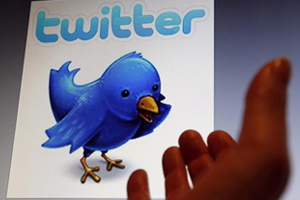 Twitter Inc on Wednesday unveiled a new tool that allows marketers to disseminate targeted messages based on the content of users' tweets, a technology that could help elevate Twitter's effectiveness as an advertiser to a rarefied level demonstrated only by digital advertising leaders like Google Inc.
Twitter's advertising business is relatively modest and is likely to generate 2013 global revenue of under $600 million, according to the consultancy eMarketer.
But the fast-growing social networking company, which has 200 million users around the world, hailed its new tool as something of a technological breakthrough: until now, Twitter has been able to decipher a user's interests largely by analyzing the list of accounts he or she follows, otherwise known as the "interest graph."
The new tool allows marketers using Twitter to delve into the content of a user's tweets to show the most relevant ads.A band on tour may now send automated, paid ads about their next show in Chicago, for instance, to any Twitter user in Chicago who has tweeted about that band.
Early tests of the new keyword-based targeting mechanism showed that in some cases, users clicked on ads 11 out of 100 times they were shown, a remarkably high rate in the realm of digital advertising, according to Kevin Weil, a senior director of product at Twitter.
That click rate "shows the power of the intent expressed in users' public tweets," Weil said.
The new ad tool could also take advantage of the existing ubiquity of "hashtags" — the pound sign that Twitter users include to signify a topic of discussion, to deliver ads."It's already used today as a way to focus conversation," Weil said. "Now it's also a way for users who are talking about something to see really relevant."
The push to refine its advertising products comes as Twitter, valued at $9 billion by private investors, prepares for an IPO as early as 2014.The new technology echoes the search ad technology employed by Google, which for years has proved hugely effective because it shows relevant ads based on precisely what a user has searched for.
Another online advertising leader, Facebook Inc, shows ads based on what a user has "liked," among many other signals.In a blog post Wednesday, Twitter said the new keyword targeting technology would be available globally to marketers in 15 languages.
The seven-year-old company, which did not establish a viable business model in its early years and suffered from management turmoil, has aggressively ramped up its revenue-generating capabilities in the past two years under the direction of Chief Executive Dick Costolo, who assumed leadership in 2010.