Samsung is going to launch new Galaxy and Ativ devices on June 20 in London, the company informed through its various communication channels. The Korean giant is calling the event, Samsung Premiere 2013.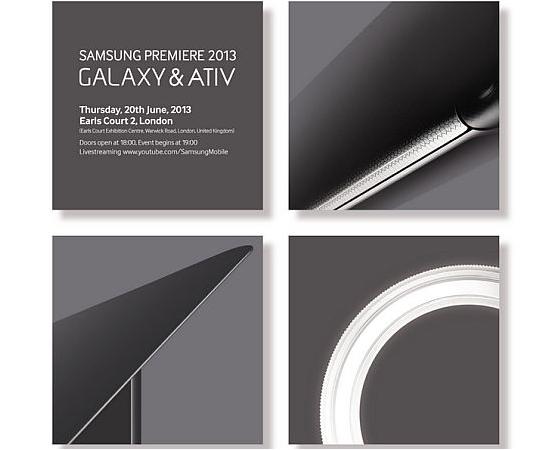 While the invite teaser doesn't offer much detail barring what looks like a textured back of a phone/ tablet, a laptop lid and perhaps a camera lens, it's worth pointing out that Samsung sells Android smartphones, tablets and cameras under the Galaxy sub-brand, and Windows Phone 8 smartphones and Windows 8 tablets/ hybrids/ PCs under the Ativ sub-brand. So we could see the company unveiling any of those devices. Samsung would also be offering a live-stream of the event on YouTube.
Samsung had recently announced that it would be extending the Ativ branding to include its Windows 8 based PCs.
Among the Galaxy devices, Samsung is expected to launch various niche variants of its flagship smartphone, Galaxy S4. The company is expected to launch a ruggedized version of the phone by the name of Galaxy Active, a compact version – the Galaxy S4 Mini and even a camera-focused variant- the Galaxy Zoom. It's also possible that the company may announce a new tablet under the Galaxy Tab or Galaxy Note series.
It's also interesting to note that Samsung is launching its large screen smartphone, the Galaxy Mega, on Tuesday, in the Indian market. The company is holding an event and has tweeted about the same through the Samsung Mobile India Twitter account.
The Galaxy Mega comes in two screen-size variants- 6.3 and 5.8. The Samsung Galaxy Mega 6.3 sports a 6.3-inch HD display, and features an 8-megapixel rear camera, and a 2-megapixel front facing camera. It is powered by a dual-core processor clocked at 1.7GHz. The Galaxy Mega has 1.5GB of RAM, Bluetooth 4.0, Wi-Fi 802.11 a/b/g/n and A-GPS. The phone comes with a 3,200 mAh battery and runs Android 4.2 Jelly Bean. It will come in 8 and 16GB internal storage capacity variants and will have a microSD card for expanding the memory up to 64GB. Samsung Galaxy Mega 5.8 has a 5.8-inch screen with qHD(540×960 pixels) resolution. It is powered by a 1.4GHz dual-core processor, and features the same camera as that of Galaxy Mega 6.3. The phone has an 8GB internal storage variant. It comes with a 2,600mAh battery.