Global report has been launched by IDC on smart phone & cell phone sales for the first quarter of this year.
Last year in Q1 total smart phones shipped were 402.4 million units & in this year Q1 418.6 million units were total smart phones shipped where 216.2 million was the total number of smart phones i.e. 51.6%.
Samsung again shows its dominance in the market by shipping 115 million units out of which 70.7 million were smartphones. It is also interesting to know that Samsung possess 32.7% share of the global smartphone shipments & in the final quarter 27.5% of all phone shipments occurred.
Apple takes on the second spot in terms of smart phones shipments. Apple achieved 6.6% YoY increment which is much lower than global smart phone market but it is good in terms of 4% growth in cell phone market.
In terms of total phone shipments Nokia takes on the second spot with 61.9 million units & at the same time 25.1% decline YoY & also not in top 5 smart phones maker list in Q1 2013.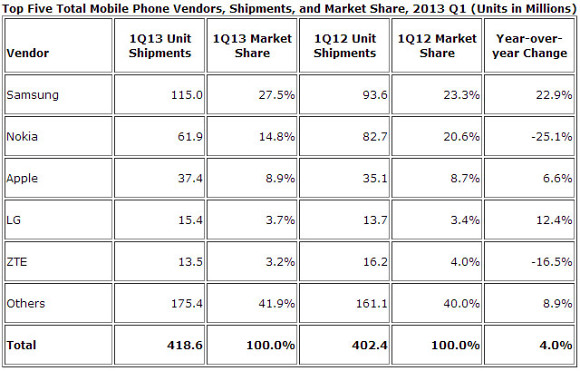 LG occupies the third spot by shipping 10.3 million Optimus devices with a good growth YoY whereas in 2012 LG sold 4.9 million units in Q1 of 2012. Standing side by side of the Korean Company Huawei also comes in picture with 10 million smart phones sold in the last three months.