It's safe to say that the Android OS has extended its dominance without any real competition from any other mobile operating systems out there. According to Strategy Analytics, Android has recorded a whopping 80% global market share during Q2, 2013.
The Google developed Android OS has accounted for 182.6 million out of the 229.6 million sold globally. Apple's iOS scored a 13.6% market share with 31.2 million iPhones and is in the second spot, while Windows Phone managed to grab the third place with a 3.9% share.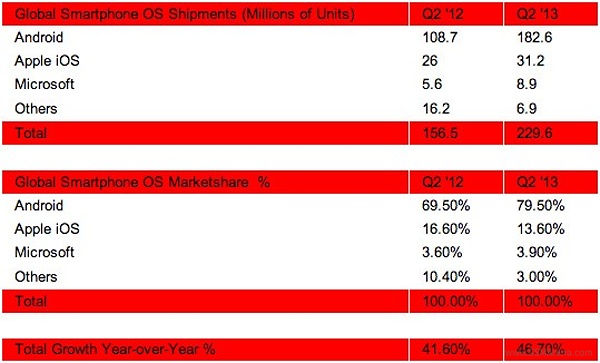 According to the report, Apple's iOS global market share is the lowest since Q2, 2010. However, the Cupertino giant still had a strong quarter with its overall shipments rising from 26 million over the same period last year. Android has seen a significant boost from the previous year, where 108.7 million Android devices were shipped.
The popular analytic firm also notes that the only way for Microsoft to increase its global market share is by charging less for the software licensing and by making its platform more competitive with Android eco-system.