The ICC Cricket World Cup 2015 is one of the most anticipated sporting events this year. Cricket's biggest tournament begins on February 14 in Australia, and fans in India can't wait for the India vs Pakistan match on February 15. Most of us will be following the action on our televisions at home, but if you're stuck in office or just don't like having a TV, you can still watch the World Cup live online. Star Sports is the broadcast partner in India, and its website and apps have streaming as well. Whether you're a fan in India or around the world though, we've got you covered. Read on to see how you can watch the ICC Cricket World Cup 2015 matches live, from around the world.
In India
Star India is the official broadcaster for ICC Cricket World Cup 2015. Most matches will be broadcast on the Star Sports channels on TV. If you don't have a TV or if Star Sports channels aren't available, you can try watching games online via one of the various methods.
Starsports.com
The official website of Star Sports lets you watch ICC Cricket World Cup 2015 matches live online – for a small subscription. Follow these steps to start watching.
1. Go to the Star Sports subscription webpage.
You will see details of the subscription. You can watch 53 ODIs live online for Rs. 120. This is valid only on starsports.com and not on any of its apps. You can watch games through a Web browser on any device.
2. Click Buy Now to register and pay.
3. Once you've done that, you can watch games live by going to the Star Sports website and clicking Login on the top-right.
This subscription is valid in India only, though the website offers different packages in other selected regions. According to Star Sports, live streaming will be available on startsports.com in territories that do not have a television broadcast of the ICC World Cup 2015. In other countries, the digital channels of official broadcasters will carry the streams (see below).
Tata Sky Everywhere TV
If you are a Tata Sky subscriber, you can use its iOS and Android apps to watch Star Sports on your phone. You need to pay Rs. 60 per month to be able to watch all channels you've subscribed to online, and there's no extra charge for Star's channels.
Outside India
Star Sports' apps have an FAQ section which states that live feed for the World Cup is available for several countries other than India (see image below). So you can try downloading the app and watch matches live available online. You may have to purchase a subscription as described above. This covers most non-cricketing nations, along with countries in the Indian subcontinent except Pakistan.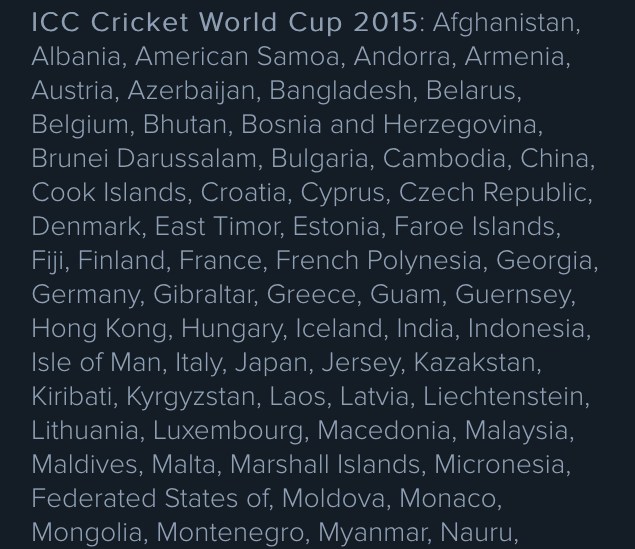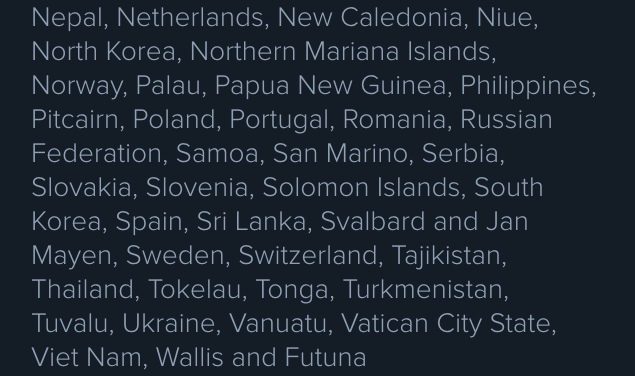 USA
If you are based in the US, you can buy an online subscription to watch ICC Cricket World Cup 2015 from ESPN. This pass costs $99.99 and is available here.
UK
Sky Sports is the official Cricket World Cup 2015 broadcaster in the UK. If you are a Sky subscriber, you can watch TV online via Sky Go. If you don't have a Sky subscription, you will have to buy a Now TV pass to watch the Cricket World Cup 2015 live. A day pass (valid for 24 hours) costs £6.99 and a week pass costs £10.99.
Australia
Fox Sports network has the broadcast rights for live coverage of the ICC Cricket World Cup 2015 in India. To watch it live online you need a Foxtel Play subscription; more details available on the Fox website.
Pakistan
PTV Sports offers live streaming free online (for Pakistan residents only). You can watch all matches here.
South Africa
SuperSport will live stream all Cricket World Cup 2015 matches online, but you need to be an existing TV subscriber to be able to watch these games. Live stream available here.
New Zealand
Sky Sport 3 is going to be broadcasting all the Cricket World Cup 2015 matches. You can watch it live online here. You need a Sky Go subscription for this, which you can purchase here.
Canada
Sportsnet is the official broadcaster in Canada for the Cricket World Cup 2015. It has a Cricket World Cup 2015 package that costs $179.99 to watch all matches live online. You can subscribe here. This page won't open if you are trying to access it from outside Canada.
If you are in any other country, try your luck at Star Sports or check out the list of official World Cup 2015 broadcasters available on ICC's website. You can contact the broadcaster in your region for more details.
Do you know of any other official methods to watch the ICC Cricket World Cup 2015 online? Let us know via the comments.