According to a recent report by a cloud computing firm Akamai Technologies, the average internet speed in India is likely to increase by over 40% to 1.8 Mbps in the next 12 months on the back of investments in high-speed fibre network and affordable data plans. The global average connection speed in the first quarter of 2013 was 3.1 Mbps while India witnessed an average connection speed of 1.3 Mbps during the same period.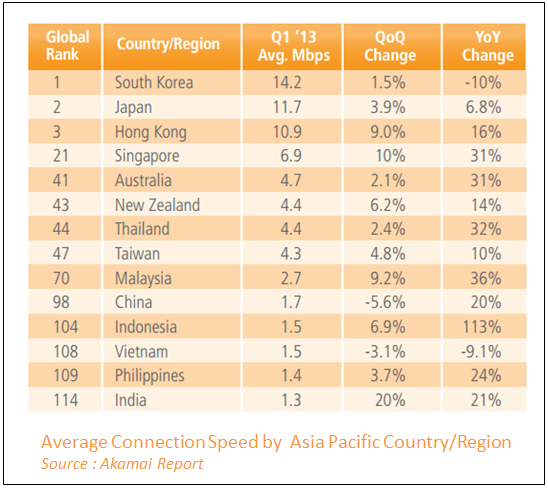 Average Connection Speeds
In the first quarter of 2013, three Asia Pacific countries/regions i.e. South Korea, Japan, and Hong Kong saw average connection speeds above the "high broadband" threshold of 10 Mbps. India saw an average connection speed of 1.3 Mbps, up 20% from a quarter prior. Looking at year-over-year changes, India saw a fairly strong growth rising to 21%. India ranks 114 on the global ranking charts and has lowest average connection speed among all the countries in Asia Pacific.
Average Peak Connection Speed
Hong Kong remained far and away the top region in Asia Pacific with the highest average peak connection speed at 63.6 Mbps. India posted an average peak connection speed of 10.6 Mbps in the first quarter of 2013, up 27% quarter-over-quarter and an yearly growth of 34%.
Broadband Adoption
 0.3% of connections in India saw speeds above 10 Mbps, up 102% quarter-over-quarter while 2.4% connections saw speeds above 4 Mbps.