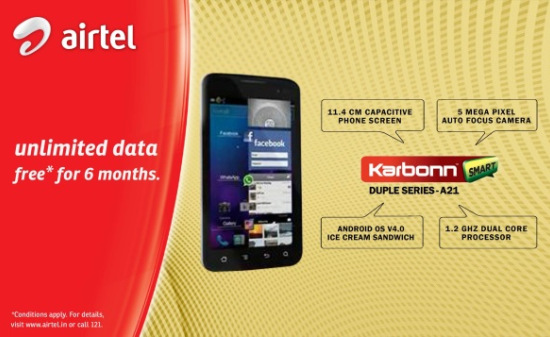 If you are a client of Karbonn mobile and have brought the model of Karbonn A9+, A15, A21 or A30 Smartphone will be getting free 500 MB free 2G/3G data usage from the Bharti Airtel for six months. Now both Karbonn and Airtel linked up with each other to promote their business together by providing an attracting skims with the handset.
Suppose you like to access free 500 MB data usage simply buy Karbonn above model and enjoy both the Smartphone and data packs at a time. Isn't a good concept to attract more consumers across the India. What's more you expected from this offer buy a brand new Karbonn A9+/A15/A21/A30 Smartphone and get access to Airtel 2G or 3G data.
According to Shashin Devsarel ; We at Karbonn Mobiles believe in returning the trust that our consumers have reposed in us, through gestures which endeavors to bring a smile onto the faces of our consumers. By associating with Airtel, we seek to bring faster and greater internet and data outreach to our consumers" statement given by Executive Director Karbonn Mobiles.