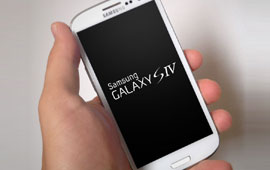 Earlier, there were reports that the next-generation Samsung Galaxy S smartphone would be unveiled on March 15, but now the Internet is abuzz with reports that the successor to the highly successful Galaxy S III, unofficially dubbed "Galaxy S IV", is highly expected to be revealed on March 14. It means that the company will announce the Galaxy S IV around 2 weeks after the Mobile World Congress 2013 in Barcelona.
According to a report from The Verge, Samsung is likely to come up with one or more new devices on March 14, and one of which is presumed to be the Galaxy S IV. SamMobile also reports that the company is going to announce the Galaxy S IV in New York.
Besdies, Mobile-Review's Eldar Murtazin tweeted about a big announcement on March 14. His tweet reads as, "Save the date for a big announcement – March 14
And keep silence

HTC will miss HTC One sales again

Like it was in 2012."
The Galaxy S IV is expected to come equipped with a 4.99-inch Super AMOLED full HD display, a 1.8GHz eight-core Exynos 5 Octa processor, 2GB of RAM, NFC, 4G LTE, a microSD slot, wireless charging capabilities and Android 4.2.1 Jelly Bean. The device is likely to sport a 13-megapixel rear camera.