Acer has unveiled its new smartphone named "Liquid E2″. This is the latest addition to the lineup and the third smartphone Acer launched since the beginning of the year. The phone has a 4.5-inch qHD display based on IPS technology. The Liquid E2 is the first Acer quad-core phone with optional dual SIM card slot.
The Liquid E2 is equipped with a 8 megapixel camera. It lets users take up to 8 pictures per second just by holding down the camera softkey. The camera is also capable of recording 1080p videos at 30 fps. The phone has a 2 megapixel front camera.
It runs Android Jelly Bean and is engineered with a quad-core processor clocked at 1.2 GHz. The phone comes packed with a 2000 mAh battery. The phone comes with 4GB memory onboard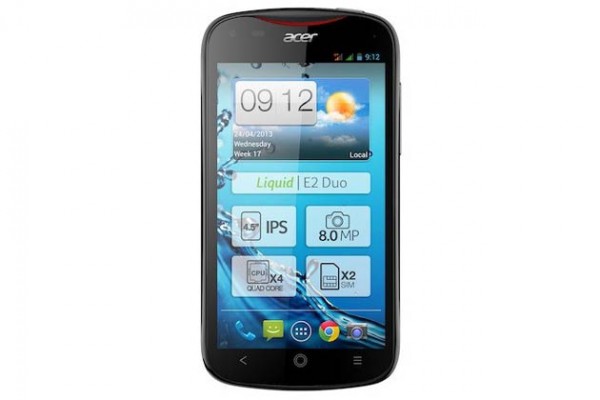 The Acer Liquid E2 will be available in Belgium, Netherlands, Ukraine, France, followed by Spain, UK, Italy, Germany and Russia starting from mid-May at a suggested price of €229. The Acer Liquid E2 will be available in two colours – Rock Black and Classic White.