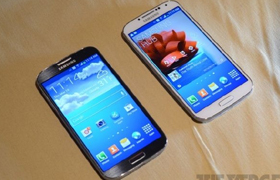 Samsung has finally unwrapped its much-awaited Galaxy S4 smartphone. It has a 5-inch screen, which is slightly bigger screen than the Galaxy S III. The bigger screen is crammed into a chassis that's actually a hair narrower and thinner than the S III's. The S4 has what you'd expect from a new smartphone – a bigger screen and a faster processor.
But the phone has some new features that may impress you. It has a cute feature we'll probably see in a lot of phones soon – you can shoot both yourself and your surroundings at the same time, using the front-and back-mounted cameras. It's a bit like having a two-camera film crew follow you around.
Here are the 10 exciting features of the Galaxy S4 that you won't find on any other mobile phone.
1. Octa-core processor: It is the world's first smartphone with an octa processor. The new Samsung Galaxy S4 is powered by a 1.6 GHz Octa-Core CPU. The processor has four ARM Cortex-A15 for performance and four ARM Cortex-A7 to handle common workloads.
2. Dual Camera: With this feature, you can simultaneously shoot with the front and rear cameras. When capturing moments, users can choose from a variety of frame effects which blend the two pictures naturally and also adjust the size of the small picture inside the big one. Users can select 8 different ways to combine the two photos taken by the front camera and the rear camera.
3. Sound and Shot: Now, listen to your photos. Thsi new feature allows you to record a few seconds of audio before you capture. In this way, you can enrich any picture by adding background sounds for a few seconds.
4. Drama Shot: It lets you take a series of pictures of a moving subject, and merge them into one picture. Thus, it allows you to see all the action in one continuous time-lapse.
5. Smart pause: Smart pause is an eye-tracking feature, which pauses videos when it detects your head moving away from the screen. When you are watching a video, the video pauses when you look away then it starts right up again when you are back.
6. Smart scroll: It allows you to scroll the browser or emails up and down without touching the screen. It recognises your face looking at the screen and movement of your wrist and then scroll the pages up or down accordingly.

7. Air View: Air View allows users to hover with their fingers to preview the content of an email, S Planner, image gallery or video without having to open it. Though the feature is present in the Galaxy Note II, but in Galaxy Note II Air View allows a user to preview content by hovering the S Pen (not finger) over the content.
8. Air Gesture: With Air Gesture, you can change the music track, scroll up and down a web page, or accept a call with a wave of your hand. Air Gesture in the Galaxy S4 allows users to navigate the phone without actually touching it.
9. Eraser: It allows you to remove unnecessary or disturbing elements from the snap. You can save the best after erasing moving objects from 5 consecutive pictures.
10. Group Play: With the Group Play function, users can enjoy music, photos, documents and games with those around them without even requiring a Wireless access point or cellular signal. It enables users to connect directly with others to share, play and co-create content and entertainment instantly. Its Share Music option allows users to have the same song playing on multiple phones in sync to create the best party atmosphere.