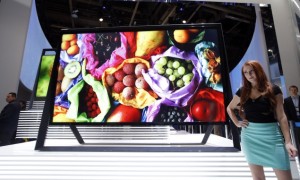 Smart TV & LED TV series will soon be introduced by Samsung Electronics in total 20 in number among these flagship models.
S K Kim Senior Vice-President (Consumer Electronics) Samsung India told that "With the launch of our 2013 Smart TV range, we are looking to consolidate our leadership in the Panel TV market in India. We expect LED TVs to drive our Panel TV growth, with Smart TVs contributing at least 20 per cent of our Panel TV volumes this year."
Two newly launched television with quad-core processor were named as F8000 and F7500 would deliver a high grade consumer experience.
Some of the interesting features of this two new Smart TV's were as brighter & vibrant pictures with rich in colors, deeper black levels and higher contrasts.
As per S K Kim F8000 possess ultra-thin design profile and Arc style & also considered to be the first in line view Smart TV's.
This new TV series i.e. F8000 & F7500 provides a smart interactive features to people's motion and voice in such a way that users can easily navigate & control the TV.