Casual browsing and gaming have long been the strong suit of tablets, but in the post-PC era they have a big issue to deal with – content creation. The Galaxy Note 10.1 2014 addresses this with the S Pen stylus and a number of productivity apps linked to it, while Apple keeps pushing ease-of-use and unmatched user experience as the biggest advantage.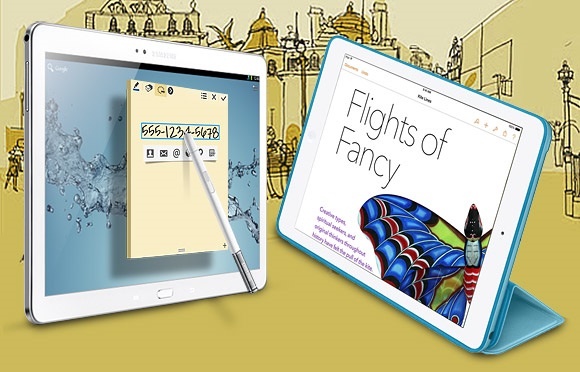 Here's how these two tablets stack up against each other.
Apple iPad Air over Galaxy Note 10.1 2014
Much lighter – 469g over 7.9mm, 540g
Thinner 7.5mm over 7.9mm
Aluminum body
CDMA connectivity
ARMv8-based 64-bit processor
Cheaper base price
Samsung Galaxy Note 10.1 2014 over iPad Air
S Pen stylus
Sharper screen – 299ppi over 264ppi
3GB RAM over 1GB
Expandable storage
Cat. 4 LTE support (150Mbps downlink) over Cat. 3 (100Mbps)
Wi-Fi 802.11ac
8MP main camera with LED flash over 5MP and no LED
1080p video capture @ 60fps over 1080p @ 30fps
1080p-capable front-facing camera over 720p
Standard microUSB port
Samsung KNOX enterprise security
IR blaster for remote control functions
Simple spec by spec comparisons like this don't usually tell the whole story – this article would've been much shorter if they did. Instead, we'll be looking at the two contenders from a use-case point of view – which one is best for a specific task.
Surprisingly, the two tablets are aren't that different in size – the Apple iPad Air measures 240 x 169.5 x 7.5, while the Samsung Galaxy Note 10.1 2014 is a bit bigger on the sides, 243.1 x 171.4 x 7.9 mm. Thin, iPad mini-like bezels is what allowed Apple to make the square-ish screen fit into the body of a widescreen tablet.
The difference in screens is nonetheless profound, and it will be properly covered in the next chapter.
Screens aside, the two tablets differ in something as simple as orientation – the button and front-facing camera placement of the iPad Air favor portrait usage, while those of the Galaxy Note 10.1 2014 lean towards landscape. Obviously you can use both tablets either way, but you'll find yourself sticking to the manufacturer-suggested orientation most of the time.
Speaking of connectivity, both tablets come in either Wi-Fi only or 4G LTE versions. The Apple iPad Air has only one 4G LTE version, which covers 3G UMTS, CDMA and 4G LTE. The Samsung Galaxy Note 10.1 2014 comes in 3G (powered by a Samsung Exynos chipset) and 4G (powered by Snapdragon 800). Note that the 4G LTE on the Samsung is Cat. 4, which offers downlink speeds of up to 150Mbsp, over the Cat. 3 of the iPad, which tops out at 100Mbps. But neither Note 10.1 2014 version has CDMA connectivity, which limits the choice of carriers for North American users.
Apple's iPads have always had aluminum unibodies, but the one on the iPad Air is the best yet, by far. It's the slimmest too (iPad 3 and 4 were thicker than 2, Air is thinner than 2) and noticeably lighter. The thinner side bezels help a great deal in handling the tablet, but it's still a two-hand device. Then again, so is the Note 10.1 2014. Anyway, the aluminum design of the iPad Air is attractive and isn't out of place anywhere.
Displays
The Apple iPad Air has a 9.7″ IPS LCD with a resolution of 2,048 x 1,536 pixels, which works out to 264ppi. It's covered by scratch-resistant glass with oleophobic coating.
The Samsung Galaxy Note 10.1 2014 has 10.1″ Super Clear LCD of 2,560 x 1,600 resolution for a higher 299ppi. There's no mention of scratch-resistance though. It does have an additional digitizer, which is used with the S Pen – it can detect it from several inches away and will detect presses of the S Pen's button, even though the stylus doesn't have a battery.
You'd think that because the Note 10.1 2014 screen has a 0.4″ bigger diagonal, the Samsung tablet has an advantage in screen real estate. Due to the different aspect, however, that's not the case – the difference is negligible, around 1%.
That's not always the case though, sometimes how much of the screen is actually used depends on the content. Most photos, for example, have a 4:3 aspect, matching the iPad perfectly. Recently, many cameras default to 16:9 though, which would fit the Galaxy Note 10.1 2014 better. Same goes for most video content, which is 16:9, even movies you got from mobile-centric video stores.
A 4:3 screen is better suited for text and documents – an A4 page is pretty close to a 4:3 aspect ratio. Even web pages mostly have relatively narrow columns, which fit portrait screens quite well – in this orientation, the iPad Air screen is wider than the Note 10.1 2014's giving you the opportunity to zoom in closer and get bigger text.
While the high pixel density makes it impossible to see individual pixels, the pixels on the iPad Air screen and the Galaxy Note 10.1 2014 screen are quite different when viewed under a microscope. The iPad has a standard RGB matrix, while the Galaxy tablet has an RGBW matrix, which should in theory improve brightness.
The results show the reality is quite the opposite, however, the iPad Air is brighter than the Note 10.1 2014 and has better contrast across the brightness range. Black levels go from equal at full blast, to noticeably better for the iPad as the brightness goes down.
Display test
50% brightness
100% brightness
Black, cd/m2
White, cd/m2
Contrast ratio
Black, cd/m2
White, cd/m2
Contrast ratio
Apple iPad Air
0.19
181
968
0.53
508
964
ASUS Transformer Pad TF701T
0.40
450
1125
0.71
755
1119
Samsung Galaxy Note 10.1 2014
0.27
221
831
0.53
440
821
Google Nexus 10
0.26
223
859
0.50
443
878
Sony Xperia Tablet Z
-
-
-
0.53
531
996
Sony Xperia Tablet S
0.35
334
947
0.67
526
783
Samsung Galaxy Note 3
0
149
∞
0
379
∞
Apple iPad mini
0.25
208
838
0.51
458
812
Apple iPad 3
0.21
167
809
0.6
477
779
Apple iPad 4
0.21
163
797
0.63
476
762
Samsung Galaxy Tab 7.7
0
200
∞
0
328
∞
Asus Google Nexus 7
0.25
244
954
0.36
327
908
Samsung Galaxy Note 10.1
0.27
223
832
0.49
406
821
Samsung Galaxy Tab 10.1
0.31
257
826
0.55
502
915
Samsung Galaxy Tab 7.0 Plus
0.17
196
1141
0.34
424
1236
Viewing angles are excellent for both tablets and color reproduction is very pleasing. The Samsung Galaxy Note 10.1 2014 has a slight edge here with the proprietary Screen mode option. It gives you three options to adjust the color profile of the screen (it changes saturation and white balance), plus an automatic mode, which adjusts the screen based on the current image or video.
Battery life
The two tablets are powered by sealed Li-Po batteries of similar capacity. The Apple iPad Air has a slight advantage with its 8,820mAh battery, while the Samsung Galaxy Note 10.1 2014 has a 8,220mAh juice pack.
Note that the Galaxy tablet screen is a bit brighter than the iPad Air when both are set at 50% brightness (which is what we use for the test). Even so, the advantage of the iPad is more than can be explained with simple brightness alone. There's that extra 600mAh, but that's insignificant compared to the total.
Web browsing over Wi-Fi drains the battery quite slowly, the iPad Air lasted over 10 hours of that. The Galaxy Note 10.1 2014 failed to crack 8 hours. That's a good 30% advantage for the Apple tablet in such a key area.