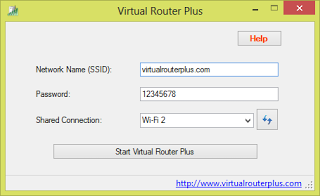 Microsoft quietly removed one of the most useful networking feature 'ad-hoc networks' in its Windows 8 OS. This special ad-hoc feature in Windows 7 will turn your PC into a Wi-Fi hot spot, allowing it to share its Internet connection with other devices via Wi-Fi.
Of-course, you can do the same in Windows 8, but the inbuilt feature requires some tweaking using the command prompt. However, there is a free, open-source program called 'Virtual Router Plus' that does all the geeky part for you.
The program requires no installation and it will simply launch when clicked. All you need to do is download it, extract and launch the .exe file inside the folder.
Next, enter the details such as your Network name (SSID), password, the connection you wanted to share and then click 'Start Virtual Router Plus'.
You should now be able to see the SSID on your mobile or other devices when Wi-Fi is turned on. In case you're not able to see it, then simply redo the process (close and launch it again).