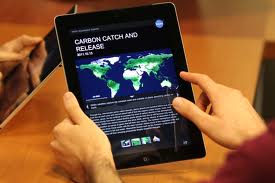 Now get all the topics of NASA right to your Apple iPad using NASA Visualization Explorer 1.6.1 app. Using the app it becomes easy to get access to the latest stories about advanced space based research delivered right to your iPad. A direct connection to a NASA extraordinary fleet of research spacecraft, this app presents cutting edge research stories in a beautiful format.
You can see the real shape of the Earth which you have never seen it before, travel to places otherwise unavailable to even the most intrepid explorers. It's really an exciting app for iPad to be touched with NASA updates daily.
What it needs to do just download NASA Visualization Explorer 1.6.1 and start tapping into the power of NASA cutting edge research today and check for new stories every week. Well using this app you can share custom story lists via email even you can view credits for each story. And all the pictures are of High Definition resolutions.
Download NASA Visualization Explorer 1.6.1