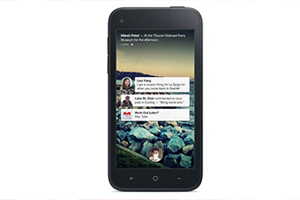 Facebook's Home launcher for high-end Android phones has crossed 500,000 downloads on the Google Play Store.
Consultant Benedict Evans had tweeted about the figure via his Twitter account. The Play Store does not offer specific information related to downloads barring a wide range of installation numbers. At this point in time the store mentions installations in the range of 500,000 to 1,000,000.
Facebook Home (Review) was made available as a free download from the Google Play store in the US on April 12. It was extended to India and other countries across the world with the Google Play store on April 16. Facebook says Home works on the HTC One X, HTC One X+, Samsung Galaxy S III and Samsung Galaxy Note II. Home is also said to work on the forthcoming HTC One and Samsung Galaxy S4.
The app – or the 'launcher' in technical terms – was unveiled by the social-networking giant earlier this month and is designed to let users display mobile versions of their Facebook newsfeed and messages prominently on the phone's home screen. Also included is "chat heads" messaging service and "cover feed", both of which dominate users' home screens and continuously feed messages, photos, status updates and other content from Facebook's network.
The launcher had not received favourable reviews and more than 50% reviews of the app were one star ratings. At this time, Facebook Home's average rating was 2.2 out of 5 with 5,764 users out of 11,177 giving it a one star rating.
There has been talk about Facebook Home coming to iPhone and Windows Phone-based devices, but without extensive cooperation from Apple and Microsoft, that is unlikely to happen anytime soon.
"We're not building a phone and we're not building an operating system, but we are building something that's a lot deeper than an app," Facebook chief Mark Zuckerberg said at the Facebook Home launch at company's Silicon Valley headquarters earlier this month.