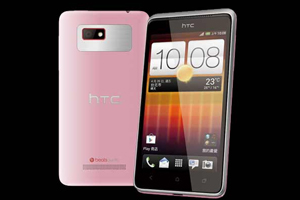 HTC has unveiled a new phone in Taiwan. Curiously, however, the phone doesn't follow the current naming trend that the company has adopted. Instead of the "One" branding, the handset goes oldschool HTC with the name Desire L.
The handset sports low-end specs and seems to be aimed towards the budget market. It comes equipped with a 4.3-inch SLCD 2 display with a WVGA resolution of 800 x 480 pixels. It's powered by a 1GHz processor. For imaging, it's equipped with a 5 megapixel rear camera, but it lacks a front-facing camera. It also has the Beats Audio drivers that HTC includes in its phones.
The phone seems to be available in three colours – black, white and pink. Looking at the pictures, it seems to be running either Sense 4 or Sense 4+. It is unknown whether the phone will get the Sense 5 update.
While the phone has been announced on the HTC Taiwan website, there seems to be no word from the company regarding a possible international version of the smartphone.