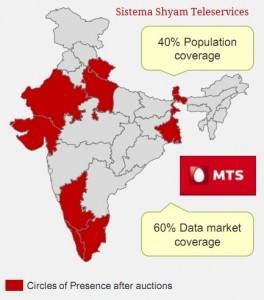 In a recent statement by Sistema, who holds 56% of country's CDMA voice and data service provider Sistema Shyam Teleservices (SSTL) has expressed the trust on data as future's growth potential. To enable its 'voice enabled data focused' strategy Sistema confirmed that the company will roll out LTE in India in next 3-4 years.
In February this year SSTL, which operates under MTS brand in India secured its presence in 9 circles as it was the sole participant in the auction. In all 9 circles MTS has 3.75MHz (3 x 1.25 MHz carrier channel) spectrum on 800MHz band which is currently used as 2 carrier channels for voice and 1 carrier channel for high speed data (CDMA 1x EVDO Rev A) in most circles. The spectrum is technology neutral.
As Sistema looks into its Indian telecom venture in future, it wants to be established operator of choice for data, create high in class LTE experience in India, monetize through consolidation and OIBDA breakeven in all circles by end-2014 or H1 of 2015. In West Bengal circle MTS reached breakeven point in Q4 of 2012.
It looks that MTS may start launching LTE from 2014-2015 and may look for consolidation or expansion of coverage following the company achieves breakeven in all 9 circles.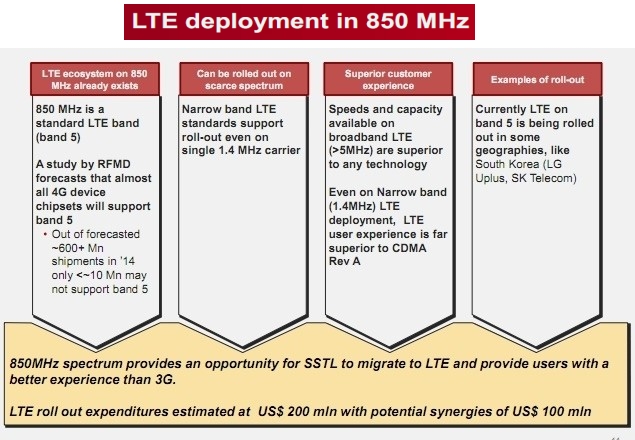 SSTL has following strategy to create 'the best LTE experience in India': Optimize existing business, reach breakeven and improve sales and distribution, expand data services and strengthen brand, and migrate and launch LTE.
As per UBS research and company data, India has huge growth opportunity on data segment. Currently India's average data revenue as a percentage of ARPU (15%) is less than half of that (35.5%) of Asia Pacific Countries' average. Even India's smartphone penetration stands at 6% while in Asia Pacific countries it stands at 28.7%.For smartphone penetration MTS is focusing on tier II/III cities. With more than 7000 EVDO BTS in the country MTS wants to cover data-potential areas to compete with 3G-HSPA operators. Not only that CDMA on 800MHz offers superior customer experience as well as better indoor and outdoor coverage compared to 3G-HSPA services on 2100MHz. MTS has launched several affordable smartphones and bundled attractive voice and data offers.