Opera Mini will be the exclusive third-party browser to be preinstalled on all Android devices by Celkon, Karbonn, Lava and Intex. Opera Mini will also be preinstalled on select Android devices by Fly and Zen, as well as on HCL ME tablets.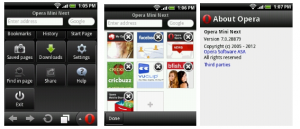 Well suited for Indian mobile networks thanks to its data compression, Opera Mini is the most widely used mobile web browser in the country. It uses a server to pre-process and compress websites to as little as 10% of their original size before sending them to the mobile device. Therefore, Opera Mini users get a remarkably faster and more cost effective browsing experience than other mobile browser users.
Opera Mini's features such as Smart Page, Speed Dial, tabbed browsing, password manager, download manager and Opera Link are sure to make the browsing experience on Android devices faster, cheaper and smarter. Opera Mini is also available as a free download from m.opera.com.