Indian telecom sector which is under the huge Rs 251,000 crore debt have just got a breather as Telecom Commission approved the proposal of foreign direct investment cap to 100% from the present 74 per cent. Commerce and industry minister Anand Sharma announced this after a meeting of the Union Cabinet.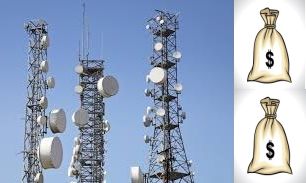 At present 74% FDI is allowed in telecom, of which 49% directly and beyond that Foreign Investment Promotion Board (FIPB) approves the permission.
Government believes that it will open the gate of investment from global firms across the globe and ultimately the once-fastest-growing but now huge debt-laden sector will be relieved in coming days.
With this move, many telecom major who are running business in the country with major dispute with their Indian partners may buy out their partners' stake in the venture and can kickstart their Indian operations in a new mode. Telenor (operates under Uninor brand), Reliance Communications, Maxis (have majority stakes in Aircel), Sistema (owns shares in MTS India) welcome the reform push.
Analysts believe 100% FDI in telecom can get more than $ 10 billion investment in the country in near to long term. The telecom sector may see more merger and accusations as well as consolidations in coming days, with new players the competition may get more intense.
Our Take:
In coming days it's quite obvious that Vodafone India and Telenor may go for 100%-owned subsidiaries in India, while RCom may look for majority stake sell to foreign telcos (they had preliminary talks with South African telco MTN) and Sistema would go for more control in its Indian subsidiary – Sistema Shyam Teleservices.
But regarding new foreign operators I am quite skeptical, because India's voice/2G growth is now in plateau stage and growth on data is still in nascent stage. With 100% FDI foreign companies will look into the opportunities in India – they need to see clear and non-controversial policies for telecom from the government; like merger & accusations, MVNO, spectrum sell & refarming and others. Until Govt. makes proper policies for Indian telecom, new investments will be at bay.