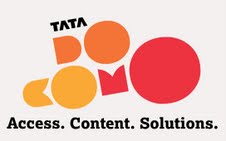 Dual technology telecom operator, Tata Docomo, the flagship brand for Tata Teleservices (TTL) has surrendered its excess CDMA Spectrum in 15 telecom circles out of 19 circles due to huge losses amid intense competition or less scope in CDMA services.
Tata Teleservices (TTL) which is country's sixth largest telecom operator in terms of subscribers (including both CDMA and GSM) had told the Department of Telecom (Dot) – Govt of India that it would surrender all CDMA spectrum beyond the 2.5 MHz start-up limit in 15 telecom circles, with the exception of Delhi and Mumbai, where it would retain 3.75 units by paying the surcharge of extra spectrum.
The company said that "We have completed the surrender of CDMA spectrum in all circles wherein we have made the decision to surrender.It is pertinent to mention here that our responsibility and liability, if any, with respect to the surrendered CDMA spectrum has been fully completed and discharged.By retaining only start-up CDMA spectrum in the 800 MHz band, one won't have to pay any auction-linked price to retain any additional airwaves in a future M&A situation as the new rules mandate.
Tata Docomo offers CDMA mobile and data services in 19 circles, except for Jammu & Kashmir, Assam and the Northeast.The 15 telecom circles where Tata Teleservices surrendered its extra 20 MHz of CDMA spectrum (beyond 2.5 Mhz) are Andhra Pradesh, Bihar – Jharkhand, Gujarat, Haryana, Himachal Pradesh, Karnataka, Kerala, Kolkata, Madhya Pradesh – Chattisgarh Orissa, Punjab, Rajasthan, Tamilnadu – Chennai, UP East and UP West.
In November 2012, Tata Docomo was announced that company had winding up its CDMA operations in Jammu and Kashmir, North-East and the Assam telecom circles from January 18, 2013, since it no longer had the spectrum to operate in these three circles as earlier we shared on TelecomTalk.
According to new telecom Mergers & Acquisitions (M&A) rules, an mobile service provider will be entitled to only a block of spectrum which had been allotted at an administrative price or without an auction process (like startup spectrum with license). The merged entity would need to pay the market price for any additional airwaves beyond that one block.