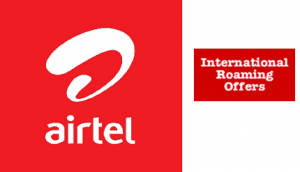 A special roaming packs has been launched  for all Airtel based international customers to receive five hours of incoming calls mostly to the postpaid segment customer & outgoing call at 20 rs per minute only n U.S. & in the countries like Malaysia, Indonesia, Singapore, Hong Kong, Thailand, Australia, Germany, the United Arab Emirates and United Kingdom, the customers will avail 40 rs per minute for outgoing calls.
Rs 779 and Rs 1,479 are the following recharge packs available to reduce the incoming & outgoing call rates to 20 rs per minute in some selected countries with full talk time packs. Both these packs can be used internationally & also in India.
In November 2012, Airtel has launched the same roaming packs in African soils to its mobile customers by making incoming calls free.