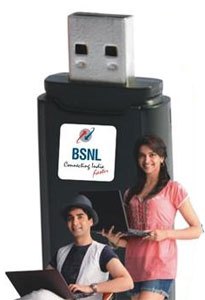 BSNL (Bharat Sanchar Nigam Limited) one of the India's leading telecom service provider has providing exclusively a CDMA data offer to GSM/3G users.
Likely, BSNL is shifting from GSM/3G to EVDO data card users & most of the kits were being issued in circles like Chennai, Punjab, Andhra Pradesh telecom circles.
There is only case for users who were submitting EVDO data cards & in exchange BSNL will provide 3.6 Mbps USB GSM/3G data cards. Now this data cards will be providing 10 GB data for 6 months by taking Rs 750 for 6 months acting as a rental plan.
TnC will be applicable as per existing after the postpaid plan is activated. This plan will be effective from 29.01.2013 till 90 days.