Recently Airtel tweeted that Airtel users can watch cool videos over v.airtellive.com at just Re 1. In that portal Airtel does some promotion of 3G – how it is better than 2G in offering better quality and clarity on voice calls too.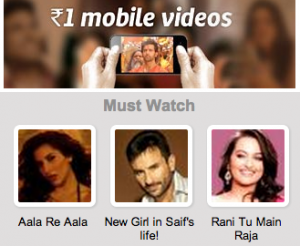 I am not sure how good is this promotion or the videos at Re 1 to push 3G services to masses. 3G penetration is not bad in the country, but very few customers are using 3G regularly – and ARPU or DoU (Data of Usage per month) is still very low from 3G data. Experts say video will give the boost to 3G, but offering videos through operator's own portal will not work.
Indian operators even if create a video sharing platform for Indian users and offer that service at a low price it will never work. Rather they can monetize by linking up with the popular services. For eg. Reliance Communciations is offering unlimited Facebook, WhatApp or Twitter access at a very low cost. Interestingly no other operator is offering the same but I think linking these OTT players will help the operators to generate revenue.
After investing a lot for 3G, operators are in a big test – how to sell 3G? To many people 3G is nothing but faster mobile internet. Those are on mobile handsets 3G does not mean extra for them. So operators should think more to push 3G among customers. Also smartphone penetration is required, where only Idea Cellular seems serious with own range of affordable smartphones.