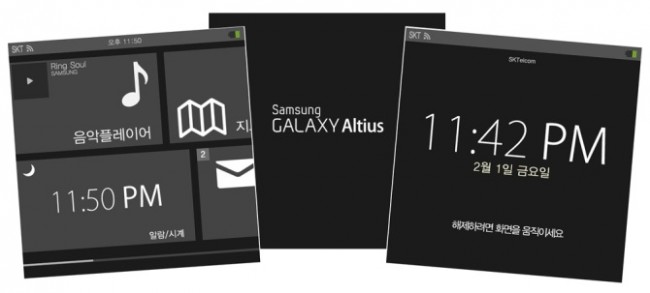 Apple is working on creating a curved glass smartwatch. Today, we learned about a similar device being worked on by Samsung, as reported by Laptop. There aren't too many details available at this time, but there are a few things we can speculate based on the screenshots.
The device, named the Samsung Galaxy Altius, looks like it will at least be available on the Korean SK Telecom mobile carrier. There's no information if it will be made available to other networks after its launch, but it means that the watch could very possibly have its own data connection, without having to sync to a phone or another device.
We can't tell which operating system the watch will run on, but it's not hard to imagine that they might choose a variation of Android. However, the company could make a slightly bolder move and opt to create their own OS just for the watch.
From the screenshots, it looks like the watch features will at least include a clock (naturally), a map app, and a music player. But don't expect to jam in too many MP3s. From what we can tell, it will likely only offer 235 MB of storage. (Though it's possible you may be able to pair the watch with other devices to stream your music wirelessly.)
Also, Altius may not end up being the name the watch has when it is finally released. In the past, the same name was often associated with the leaked rumors for the Galaxy S4, so it could be that this new gadget will have some integrated relation to the phone. That being said, the watch could also be used to make and receive phone calls.
With all this news about smartwatches, we can't help but wonder what their popularity will actually be. Would you buy one?