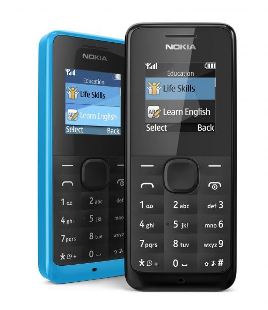 Nokia which is still the preferred brand in India kept its word. Soon after announcing that it would no longer produce black and white feature phones and will manufacture only the color display phones, the company on Tuesday launched its cheap color handset – Nokia 105 –for the Indian customers.
The device which is priced at Rs 1,249 is believed to be an updated version of highly successful Nokia 1280 which baffled everyone with the sale of more than 100 million units.
The Nokia 105 come with beautiful design features like like FM radio, a speaking clock and flashlight, making it ideal for first-time buyers. This is believed to be the cheapest and most suitable entry level phone.
"The handset marks the end of black and white screen era in the domestic phone market", T S said Sridhar, Regional General Manager (South), Nokia India.
He said that the very human and fresh design of Nokia 105 makes it distinct in this price range, and utterly modern despite a traditional form factor.
"Our most affordable device with some of the best category features, is the ideal handset for first time buyers to enjoy the benefits and experiences of mobility," Sridhar said.