It hasn't been very long since Microsoft took over Nokia's smartphone division, but the software giant hasn't been standing still. Two of the latest devices to launch are the Microsoft Lumia 640 and Microsoft Lumia 640 XL. Four versions of each will be produced – single-SIM 3G, single-SIM LTE, dual-SIM 3G and dual-SIM LTE – but availability will depend on regions and carriers.
We were able to spend a little time with the Lumia 640 and Lumia 640 XL at Microsoft's booth at the ongoing Mobile World Congress show in Barcelona. Surprisingly, there are cosmetic differences between the two in addition to just their physical sizes. These two phones definitely do not seem like siblings, and you might prefer the look of one over the other.
The Lumia 640 comes in bright glossy colours (and one matte black option). Its shell has the dual-shot colour treatment that we first saw with the Nokia Lumia 620. The Lumia 640 XL, on the other hand, comes only in matte colours. In terms of the grip offered, this actually helps compensate for the larger size, which some people might find difficult to manage.
Both devices use on-screen buttons for navigation, so there isn't any clutter on the front. There are subtle Microsoft logos above both screens. The Lumia 640 XL has a hump on the rear for its camera, with the flash, a speaker grille and a text label arranged around it. On the other hand, the Lumia 640 is visually cleaner.
Power and volume buttons can be found on the right edges of both devices, which is consistent with other Lumia phones. There are no dedicated camera buttons. Both phones have their 3.5mm headset sockets on top and their Micro-USB ports on the bottom.
The two devices have very similar spec sheets. The key areas in which they differ are their screens, batteries and cameras. Both are powered by the quad-core 1.2GHz Qualcomm Snapdragon 400 SoC, which has been a favourite of low-cost manufacturers for a while now, but is getting on a bit in age. Both phones have 1GB of RAM, 8GB of storage space and support for MicroSD cards of up to 128GB capacity. Wi-Fi b/g/n, Bluetooth 4.0, GLONASS and FM radio are also common.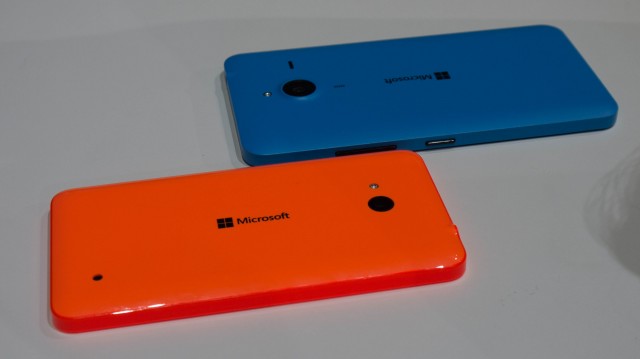 The Lumia 640 has a 5-inch 720×1280 pixel screen, while the Lumia 640 XL has a pretty large 5.7-inch screen with the same resolution. This means that the smaller model is obviously sharper. The difference is visible when you see the two side by side. Both devices have Corning Gorilla Glass 3 for protection. Both screens looked good under show-floor lighting, but we'll know more when we can spend time with them outdoors as well.
The Lumia 640 has an 8-megapixel camera on the rear and a 1-megapixel front camera. Its larger sibling has a much more capable 13-megapixel rear camera, accounting for the hump despite an increase in overall body size. It also has a 5-megapixel front camera which can record 1080p video, as opposed to the 720p limit on the Lumia 640.
The larger body of the Lumia 640 XL accommodates a 3000mAh battery while its smaller sibling has to make do with 2500mAh. We will have to see how actual usage and battery life are affected when the products come in for review and we can run our full suite of tests.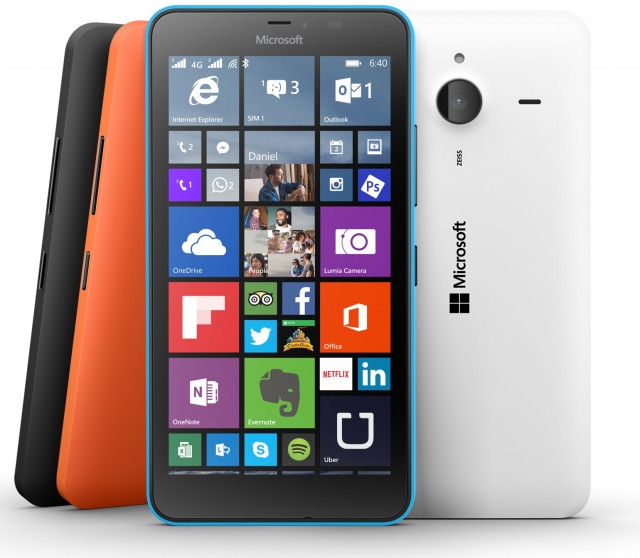 While the Lumia 640 XL is definitely harder to manipulate, there will be a market for a Windows Phone device with a large screen at a low price. We spent a little time flipping through the menus and generally getting a feel of what day-to-day performance might feel like on both phones, and were not disappointed.
Both models run Windows Phone 8.1 and will be able to run Windows 10 when it releases later this year. Apps and services including a year's subscription to Microsoft Office 365 and 1TB of OneDrive space are included, both of which are nice value additions.
Microsoft's Lumia portfolio is growing steadily and it looks as though the pace will continue through the year, leading up to the Windows 10 release. It's reassuring to know that these models are guaranteed to receive the upgrade. If local pricing is in line with the Euro pricing announced on Monday, these will be phones worth considering. Watch out for our full reviews of both devices when they are launched in India.