Another LG Optimus device officially announced in South Korea. It is known as the LG Optimus GK. The LG Optimus GK is the Korean LG Optimus G Pro variant for local carrier, KT. Keep in mind that the Korean LG Optimus G Pro isn't same like the LG Optimus G Pro global version.
The LG Optimus GK has a design rather similar to the LG Optimus G. The display size of LG Optimus GK is 5-inch and the resolution is 1920 x x1080 pixels. LG Optimus GK is powered by 1.7GHz Snapdragon 600 and 2GB of RAM. This device is going to be the competitor of Samsung Galaxy S4 and Pantech Vega Iron on the Korean market.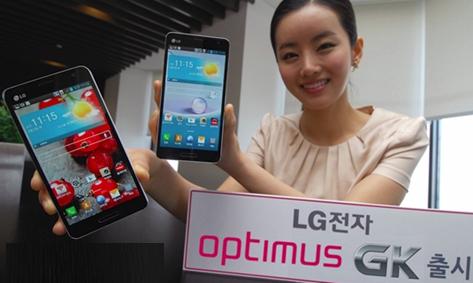 The main camera of LG Optimus GK is a 13-megapixels shooter while the secondary camera is a 2-megapixels shooter. The device has a 16GB internal memory and supported MicroSD expansion. Keep in mind that the LG Optimus GK runs on Android 4.1.2 Jelly Bean.
LG is yet to unveil the official pricing of the device and availability.
Please like our Facebook page or follow us on Twitter or add us to your circle in Google + so that you won't miss out any breaking news and freebies contests from us. You also can download our Android apps to receive the latest news to your mobile device.