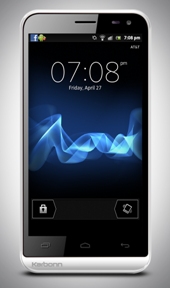 With an eye on the emerging 3G smartphone market, India's leading mobile phone brand Karbonn has launched 'Smart' A12 smartphone which is powered by comes with Broadcom 3G Smartphone Platform for Android. The device is priced at Rs. 7990.
Karbonn Smart A12 is a 11.4 cm (4.5) multi-touch device and is powered by a Broadcom BCM21654G chipset that includes a 1GHz ARM Cortex A9 processor and an integrated and globally proven 7.2/5.8 Mbps HSPA modem with low-power VGA video support.
The chipset also includes a 2G/3G cellular radio (RF), a power management unit (PMU), and an advanced connectivity suite including Bluetooth, Wi-Fi and GPS for a complete system solution. Other innovation oriented product features include VideoCore multimedia and 3G/2G Dual SIM Dual Standby.
Karbonn Smart A12 comes preloaded with Messaging applications like Whatsapp, G Talk & Google Plus Messenger; Social Networking connects like Facebook & Youtube; along with a host of other apps like Kingsoft Office, Gmail, News, Weather and Saavn Music.
Shashin Devsare, Executive Director, Karbonn Mobiles said "With the launch of the Smart A12, we seek to establish our positioning into the emergent Android domain, and provide our users cutting-edge Android based mobility solutions. It is herein that with the partnership with Broadcom to bring in our premier 3G enabled mobility device that we seek to cater to the nascent needs of the young and aspiring consumer base of the country.
"As users around the world shift from 2G feature phones to more sophisticated 3G phones, Broadcom's complete, integrated platforms enable OEMs to reach new consumers with entry-level, high-caliber smartphones," said Nambi Seshadri, Broadcom Senior Vice President and General Manager, Mobile Platform Solutions.  "With device manufacturers developing smartphones at a lower cost, more consumers will be able to enjoy the benefits of the mobile Internet."
It is available in Black & White colour profiles.