Screen size. Just like last year was the year of the multi-core processor, 2013 is surely the year of the big screen. There was a time when 5 inches of diagonal were considered overkill, but with just about every major brand now flaunting a fullHD five-incher, it seems the only way to go is up.
And Samsung has done just that. With the release of the Samsung Galaxy Mega 6.3 the Galaxy Mega 5.8, the Koreans are looking to blur the lines between phone and phablet even further, and add even more inches to its repertoire of display sizes.
The Samsung Galaxy Mega 5.8 is the lesser half of the new Mega duo, and if a 6.3″ screen is just too big for you, then 5.8″ may be just your size. Plus, there may even be a few people out there that might still consider it a phone.
So, what does the Mega 5.8 offer that other large-screen devices do not? Is the optional dual-SIM support and the more attractive pricing the only redeeming quality it has over the likes of the Samsung Galaxy Note II? We'll tackle all those questions and more, but first let's take a look at the key features at a glance.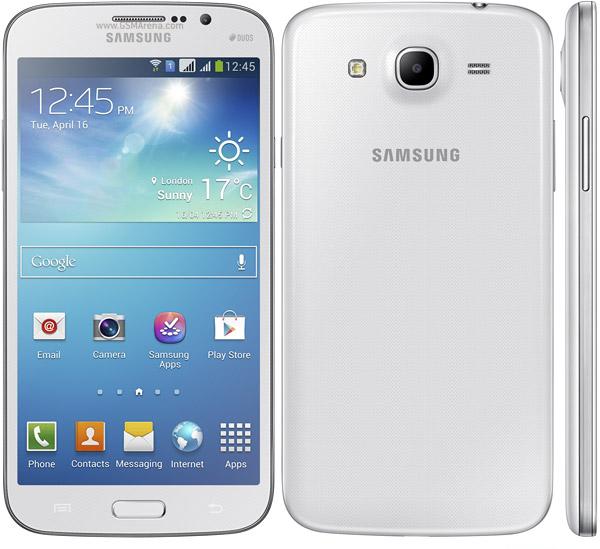 Key features
Quad-band GSM/GPRS/EDGE; quad-band 3G with HSPA; LTE; Dual-SIM version available
5.8″ 16M-color qHD (540 x 960) TFT LCD capacitive touchscreen
Android OS v4.2.2 Jelly Bean with TouchWiz UI
Dual-core 1.4 GHz Broadcom CPU, VideoCore IV GPU
1.5GB of RAM
8 MP autofocus camera with LED flash,1080p video recording @ 30fps, continuous autofocus and stereo sound
1.9 MP front-facing camera, 1080p video recording
Dual shot and dual video recording, Drama shot, Shot and sound
Dual-band Wi-Fi a/b/g/n, Wi-Fi Direct and DLNA
GPS with A-GPS, GLONASS
8GB of built-in storage
microSD card slot
microUSB port with USB host and MHL
Bluetooth v4.0
Standard 3.5 mm audio jack
Accelerometer and proximity sensor
Active noise cancellation with dedicated mic
2,600mAh battery
9mm thickness; 180g of weight
Main disadvantages
Big, even for a phablet
Resolution on the low side for the screen size
Midrange performance
Design is a bit played out by now
Shared camera interface makes framing tricky
One thing to keep in mind regarding the 5.8-inch display is that it goes with a reduction in screen resolution as well, so you get even less pixels per inch than the Mega 6.3. We won't go as far as to say that at 190ppi the screen is "bad", but it cannot obviously measure up to the ultra-crisp 400+ppi displays of the most recent 1080p flagships.
When compared to the Mega 6.3, it seems that some additional sacrifices come with having a smaller display. As far as connectivity goes, gone are NFC capabilities, the IR-port, as well as the support for the new 802.11ac WiFi standard. But let's keep in mind that the Mega 6.3 doesn't come with a dual-SIM version, so it's not one-way traffic.
The Samsung Galaxy Mega 5.8 is powered by a Broadcom SoC, featuring a dual-core CPU – something we we haven't yet seen clocked at 1.4 GHz, so we're curious to see how it fares against the dual-core 1.7 GHz Krait CPU of the Mega 6.3.
Design and handling
The Samsung Galaxy Mega 5.8 runs by the Galaxy S4's playbook in terms of design, just like the Mega 6.3. It is a facelift of the Galaxy S III, a bit more angular and with slimmer bezel. Unlike the Mega 6.3, the LED flash of the Mega 5.8 is located to the left of the camera, rather than underneath it.
The screen on the Samsung Galaxy Mega 5.8 is bigger than most phones (including the Galaxy S4). It's so big it barely fits on the device – the bezels are very thin, especially on the side. It also makes very efficient use of the front surface, rivaled only by the Mega 6.3, the S4 flagship, and the Sony Xperia ZL.
The device is slightly more compact than the Mega 6.3 and some will possibly find it comfortable enough to hold. The slim bezels look good but offer no proper rest for your thumb and the slippery back doesn't help much either. Single-handed use is only possible for a limited number of tasks.
Samsung has enabled a smaller keyboard in some places (the QWERTY keyboard, the dialer keyboard), which does improve usability a bit. However, the notification area is completely out of reach and the lower corners are tough too – both areas of high importance when working with Android.
You can pocket the Mega 5.8 and since it's slim and fairly light it won't bulge in your pocket or feel like a brick, but sitting down with such a large device in your pocket can be uncomfortable.
Display stretches the qHD resolution
At the core of the Samsung Galaxy Mega 5.8 is the 5.8″ screen. It's a massive TFT LCD of 540 x 960 pixels resolution, which works out to 190ppi. Unfortunately, this is even lower than what's found on the 720p 6.3″ screen of its elder brother, and is a far cry from the 441ppi found on most 1080p 5-inch flagships.
You have to take into account that bigger screens are usually held further from the eyes, which partially makes up for the lower pixel density. If you're coming from a Galaxy S4 you'll immediately spot the lower sharpness, especially when looking at text, but other than that the screen image quality is good.
With all this talk of pixel density, we have to mention the resolution and how it affects the interface. While the screen of the Mega 5.8 is much bigger than that of the Galaxy S4, it doesn't fit more shortcuts or other UI elements. Samsung could have drawn the elements smaller, but that would have affected the image quality as smaller text doesn't render as well on the relatively low pixel density (compared to the previous and current generation of flagships).
The Mega 5.8 screen has good viewing angles with no color shift and only slight contrast loss when looking at the display at an angle.
The brightness control in the notification area is quite handy and can be hidden to make room for more notifications. It also features an automatic brightness mode with a slider to tweak the algorithm, making the display generally darker or brighter than the surrounding ambient light.
Display test
50% brightness
100% brightness
Black, cd/m2
White, cd/m2
Contrast ratio
Black, cd/m2
White, cd/m2
Contrast ratio
Samsung Galaxy Mega 5.8
0.32
335
1045
0.56
559
1003
Samsung Galaxy Mega 6.3
0.12
160
1364
0.32
440
1379
Samsung N7100 Galaxy Note II
0
215
∞
0
402
∞
LG Optimus G Pro
-
-
-
0.41
611
1489
The screen is a bit reflective though, which brings the sunlight legibility down.