Prior to release, Oppo went over and beyond to promote the upcoming smartphone with regular YouTube teasers and sneak peeks, getting CyanogenMod's top man, Steve Kondik, on board. That collaboration will bear fruit in a limited edition Oppo N1 with a CyanogenMod ROM but the one we're about to have a closer look at runs the company's homebrewed Color OS.
Android manufacturers (Chinese ones nonetheless) are keen to have their own take on Android – we've seen Meizu's Flyme OS on a few occasions, Huawei's got Emotion UI and Xiaomi has the MiUi. This is our second encounter with Oppo's Color OS, and it has improved quite a lot from what we remember on the Find 5.
Let's get into the spec sheet in a little more detail. It's a list that's meant to impress and occasionally wow and it dully delivers on those points.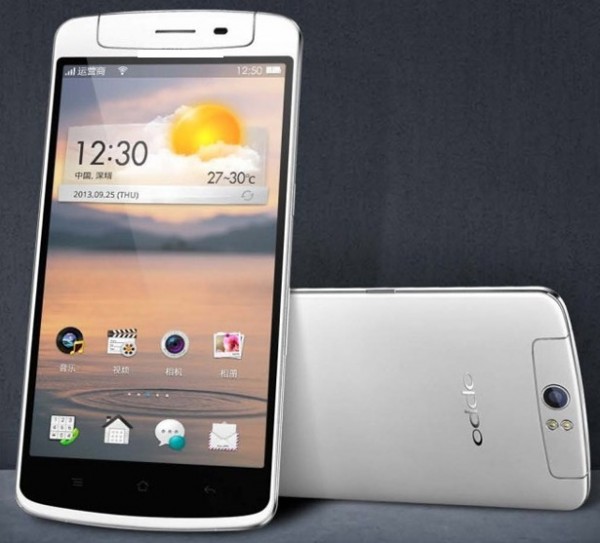 Key features
Quad-band GSM/GPRS/EDGE support; penta-band 3G with HSPA
5.9″ 16M-color 1080p Super IPS LCD capacitive touchscreen with 373ppi
Android OS v4.2.2 Jelly Bean with Color OS; There is a limited edition with CyanogenMod
Quad-core 1.7 GHz Krait 300 CPU, 2 GB RAM, Adreno 320 GPU; Qualcomm Snapdragon 600 chipset
13 MP autofocus camera, 206° module rotation; dual-LED flash; HDR, long exposure (up to 8 seconds), shutter remote
1080p video recording @ 30fps with HDR mode, continuous autofocus and stereo sound
Oppo Beauty capture
Touchpad on the back
Dual-band Wi-Fi ac/a/b/g/n, Wi-Fi Direct and DLNA; Wireless TV-out (Miracast)
GPS with A-GPS
16GB/32GB of built-in storage
microUSB 2.0 port, USB on the go support
Bluetooth v4.0
NFC
Standard 3.5 mm audio jack
3610 mAh battery
Accelerometer and proximity sensor
Active noise cancellation with dedicated mic
Premium aluminum and polycarbonate finish
O-Click Bluetooth Remote Control in the package
Main disadvantages
Non expandable storage
No LTE
Non user-replaceable battery
Hefty and big device, near impossible to operate single-handedly
Snapdragon 600 is no longer flagship-grade
The main focus is undoubtedly on the display and camera but Oppo did well to fill in the details – there's an immense battery, ample 2GB of RAM and a solid connectivity set. It's the Snapdragon 600 chipset that looks a bit out of place. Not that you should worry about general speed and responsiveness, but it just doesn't provide as much in terms of future-proofing as the Snapdragon 800 . And it can't manage 4K video recording, which is a potential eyebrow-raiser in a package that bets so heavily on imaging.
The camera is the most obvious attention-grabber, the lens placed on a 206°-rotating module, which has the earpiece and proximity sensor on one side and the 13MP camera with dual-LED flash on the other. A rotating camera design scores big on exclusivity in the current smartphone game, although we can't discount Nokia's early efforts in the field with the 3250 and N90. Maybe that's what Oppo meant with "Back to innovation".
The front is dominated by the immense screen, with the three capacitive buttons enjoying plenty of space at the bottom. At this size though, they are almost unusable in a single-hand scenario – reaching all the way down to them you risk dropping the N1 almost every time. It's a top-heavy device too, which certainly doesn't help.
Above the screen, the earpiece and sensors are on one side of the rotating bit, the 13MP camera and two LED flashes on the other. There are two flashes – one is a bright LED for regular shots (when the camera is pointed back), but when you turn the camera beyond a certain angle, the phone uses automatically the diffused one so your selfies turn out with a more pleasing skin tone.
The camera piece is really easy to rotate but still with just enough resistance. Turning it half the way (beyond 120 degrees) automatically starts the camera.
The rotating part is a highly complex component with some 50 cables going in and out. No doubt, this would rig a bell of warning to anyone old enough to remember the numerous faulty ribbon cables in slider and clamshell phones, but the company claims it has put the module through rigorous tests and says it should withstand some 100,000 rotations.
Battery life
The Oppo N1 did fabulously in our dedicated battery life test but that was to be expected from a battery this big. The N1 makes use of a 3610 mAh battery. True, it's not removable, but you won't need to keep a spare with that sort of endurance.
For starters, it took us the amazing 25h of talk time on a 3G network to bring this battery down. Next up was our dedicated web browsing test where it endured for more than 9h. And finally, our dedicated video test ran for a total of 11h 15min before the battery ran flat.
We took into account the standby battery consumption with the screen off and we came up with our proprietary battery rating of 79h. That means that the Oppo N1 battery should be good for more than 3 full days given that you use it for an hour of calls, an hour of web browsing and an hour of video watching every day.
Display
Easily one of the key selling features of the device, the 5.9″ screen of the Oppo N1 has a resolution of 1920 x 1080 pixels, resulting in around 373ppi. Oppo puts the screen brightness at 450 nits, not all that much for an IPS LCD like the N1's but in reality the screen looks pretty bright.
Hardly a surprise for an IPS unit, the side viewing angles are excellent – it's a high-quality screen, no doubt about that. The screen's digitizer is super-sensitive and the phone can be used with gloves (if you turn that on in the settings menu).
The contrast of the screen is pretty good and about in line with the excellent Find 5 display. Color reproduction is also pretty great adding up to great image quality screen.
Display test
50% brightness
100% brightness
Black, cd/m2
White, cd/m2
Contrast ratio
Black, cd/m2
White, cd/m2
Contrast ratio
Oppo N1
0.25
285
1118
0.47
553
1164
HTC One Max
0.14
224
1591
0.40
629
1572
Samsung Galaxy Note 3
0
149
∞
0
379
∞
Sony Xperia Z1
-
-
-
0.38
580
1513
Nokia Lumia 1520
0.22
263
1174
0.43
522
1207
Nokia Lumia 1020
0
172
∞
0
398
∞
Nokia Lumia 920
-
-
-
0.48
513
1065
Sony Xperia Z Ultra
-
-
-
0.47
467
1001
Sony Xperia Z
-
-
-
0.70
492
705
Huawei Ascend Mate
0.23
222
982
0.67
711
1053
Samsung Galaxy Mega 6.3
0.12
160
1364
0.32
440
1379
Samsung I9505 Galaxy S4
0
201
∞
0
404
∞
HTC Butterfly S
0.15
165
1117
0.43
451
1044
The only sub-par element of the otherwise great display is its sunlight legibility. The less than stellar brightness combined with the very high reflectivity add up to pretty poor contrast when exposed to direct sunlight.