Their Windows Phone endeavors may have not been all smooth sailing for Nokia, but the Finnish company finally came up with the smartphone to beat – the Lumia 1020. Combining the best of both worlds – solid smartphone experience and an unrivaled camera, the Lumia 1020 promises to become the hero device that both Nokia and Microsoft so desperately need at this moment.
Nokia has been the king of cameraphones since the golden days of Symbian. The legendary Nokia N95 won our first 5 megapixel shootout, and it was shortly followed by the N82, which added a xenon flash to the mix. Symbian's fate then took a sharp turn for the worse, but even so, the emblematic sharpshooter Nokia N8 came along. Then, at the end of the Symbian era, the 808 PureView arrived and changed our understanding and expectations of cameraphones for good.
Unfortunately for the Finns, their WP8 cameraphone voyage didn't begin as smoothly as the Symbian journey ended. The Lumia 800 had an interesting multi-aspect sensor, which sacrificed only little resolution when shooting 16:9 stills, while the Lumia 920 was first to bring optical image stabilization (OIS) to the smartphone world, but neither of those was able to achieve the iconic status of their predecessors. Perhaps adding the PureView moniker to the Lumia 920 in an attempt to capitalize on the brand was a mistake by Nokia, as that guaranteed the smartphone will often be compared to the 808 PureView and that was a battle it was never going to win, OIS or not.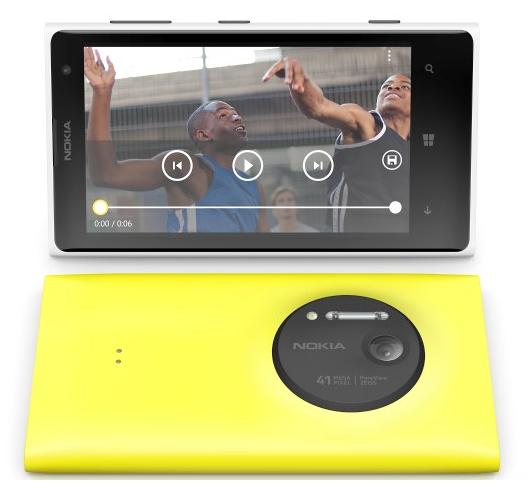 People wanted their 41MP WP8 smartphone and yesterday Nokia finally delivered.
The Windows Phone ecosystem is still growing but not fast enough to compete with the big boys. Perhaps bringing the platform to the forefront of the cameraphone race is exactly the kind of push it needed. And camera aside, the Lumia 1020 delivers duly on all those vital other aspects of a modern-day smartphones with barely any compromises made – check out the complete breakdown below.
Nokia Lumia 1020 at a glance
General: GSM 850/900/1800/1900 MHz, UMTS 850/900/1900/2100 MHz; HSDPA 42.2 Mbps, HSUPA 5.76Mbps; LTE bands 1, 3, 7, 8, 20 LTE Cat 3 100Mbps down, 50Mbps up
Form factor: Touchscreen bar
Dimensions: 130.4 x 71.4 x 10.4; 158 g
Display: 4.5″ 16M-color WXGA (768 x 1280 pixels) ClearBlack AMOLED capacitive touchscreen; PureMotion HD+, 2.5D sculpted Gorilla glass 3; Super sensitive touch
Chipset: 1.5GHz dual-core Krait processor, Adreno 225 GPU, 2GB of RAM
OS: Windows Phone 8
Memory: 32/64 GB of built-in storage;
Still camera: 41 megapixel camera with 6-element ZEISS lens, OIS, 3x zoom, xenon and LED flashes
Video camera: 1080p video recording at 30fps with two Rich Recording mics; 1.2MP front-facing camera with 720p video
Connectivity: dual-band Wi-Fi a/b/g/n, stereo Bluetooth 3.0, standard microUSB port, GPS receiver with A-GPS and GLONASS, HERE Drive+ free worldwide navigation, 3.5mm audio jack, NFC
Battery: 2,000mAh
Misc: Nokia-exclusive Pro Camera app, FM Radio, built-in accelerometer, multi-touch input, proximity sensor; available in Yellow, White or Black
Accessories: Snap-on camera grip with built-in 1,020mAh battery and tripod mount, Snap-on Qi wireless charging cover
The Nokia Lumia 1020 didn't stay in the factory long enough to get a quad-core chipset or a full HD screen – this kind of WP phones are probably set to arrive further down the road along with the next WP8 release. However, the Lumia 1020 can now make full use of the growing catalog of WP8 apps, which is now not too far behind Android and iOS as far as the most important titles are concerned and is even starting to get an exclusive app now and then.
There's also the free lifetime voice-guided navigation that needs no data connection to operate. Getting that on another platform usually costs a pretty penny, so delivering it out of the box is certainly going to earn quite a few points for the Lumia 1020.
Then again the new Nokia flagship has quite the price tag to live up to, so it will need all the help it can get. Yesterday, we only got a chance for a quick hands-on after the launch event, but now that we have the Lumia 1020 in the comfort of our office, we are able to make it jump through some hoops and show its real worth.
Design and build quality
Looking at the front of the Lumia 1020, the smartphone is almost identical to its Lumia 920 predecessor. The only giveaway is the fact that the bulging camera module makes it sit at an angle when placed on a table or other level surface.
The build and finish quality are certainly among the best in business, although we have to admit the design isn't as striking as it was nearly a year ago, when the Lumia 920 launched. But even if it's a little played out now, the unibody feels impressively sturdy and with the color being inherent to the material and not simply painted on top, it will certainly last a for quite a while and scratches will be harder to spot.
At its launch, the smartphone will be available in three color versions – the yellow one (like our test unit here) is the so-called lead color, meaning that it stars in most promo materials, but there's also a black and a white version.
We guess Nokia will add a few more options to the range further down the road (the Lumia 920 is available in 5 different colors), but even as it is now, the smartphone offers more choice than many of its competitors.
The Nokia Lumia 1020 comes with the same PureMotionHD+ AMOLED display as the Lumia 925. There's Gorilla Glass 3 protection on top, to keep scratches away and provide extra impact resistance.
The company chose to move away from LCD panels for its flagships after the Lumia 920 and we suspect the reason for this is keeping the thickness to a reasonable level.Of course an AMOLED panel has many other advantages such as more vibrant colors and far superior contrast.
Nokia has even supplied the Lumia 1020 will a cool color profile app that lets you tune the saturation and color balance to your liking – if oversaturated colors aren't your thing you can go tune them down to more realistic levels and if you like that effect you can go all the way up.
The Nokia Lumia 1020 touchscreen also supports operation with gloves, which might come in handy when operating the flagship in the winter.
As far as image quality is concerned, the Lumia 1020 display performs excellently – it has good brightness levels for an AMOLED screen and excellent viewing angles. Blacks as typical for the technology are as deep as they get.
Sunlight legibility is pretty decent, although not exactly as great as on the 808 PureView and its much brighter AMOLED screen.