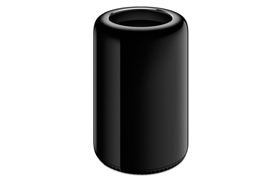 Apple Inc. (AAPL:US) will take orders tomorrow for the new Mac Pro personal computer, which is being built in Texas with components made domestically as part of Chief Executive Officer Tim Cook's $100 million Made-in-the-USA push.
"We have begun manufacturing the Mac Pro in Austin," Cook wrote in a posting today on Twitter. "It's the most powerful Mac ever."
The cylindrical machine, which runs on Intel Corp.'s latest Xeon chip, will be available to order at a starting price of $2,999, Apple said. While companies such as Google Inc. and Lenovo Group Ltd. are doing some final assembly in the U.S. of parts made overseas, Cook said in an interview in October that Apple is manufacturing — not just putting together — the Mac Pro's metal parts in the U.S.
"The difference with us is that we're taking a bottoms-up approach," Cook said at the time. "We don't want to just assemble the Mac Pro here, we want to make the whole thing here. This is a big deal." Apple's partners (AAPL:US) are using industrial molds and production processes that were developed in the U.S., he said.
Cook's pledge to domesticate some production followed years of criticism from labor advocates about conditions at contractors' facilities in China, where most of Apple's products are built. Though Apple, the world's largest technology company, hasn't announced plans to make other products in the U.S., recent investments suggest it may head in that direction, including a new plant in Mesa, Arizona.
High End
The newest version of the Mac Pro, a top-of-the-line computer used by graphic designers and filmmakers who require the fastest performance, is going on sale at the height of the holiday shopping season in customizable configurations starting at $2,999 and $3,999 depending on the chip's power and amount of memory.
The sleek, rounded black machine, which looks like a space-age trash can or a small jet engine, is 9.9 inches tall and is an eighth the size of the current Mac Pro, the company said. Intel's Xeon processors will let it handle some calculations at twice the speed of the existing model, Apple has said, and will use 70 percent less power because of its smaller size. The computer comes with 256 gigabytes of flash-based storage, expandable to one terabyte — the equivalent of 1,000 gigabytes.
Twenty States
Apple executive Phil Schiller said in October that more than 2,000 people in 20 states were working on the Mac Pro. The Cupertino, California-based company released a video of the highly automated processes used to build the machine, showing a puck-shaped plug of aluminum being stamped into the shape of the cylindrical shell, and then passed through a series of robots for polishing, anodizing and painting. Other machines insert electronic components onto circuit boards.
The last frames of the video show the words "Designed in Cupertino, Assembled in the USA" being etched on the bottom of the machine by laser. Under U.S. Federal Trade Commission regulations, companies can't include the term "Assembled in USA" if that process only includes final piecing together of imported parts "in a simple 'screwdriver' operation in the U.S."
So far, the company's push isn't poised to have a big impact. Of Apple's $170.9 billion in annual revenue, more than 70 percent of that comes from the iPhone and iPad tablet, which are built in China. The new Mac Pro will probably contribute less than 1 percent of Apple's sales in 2014, said Gene Munster, an analyst at Piper Jaffray Cos. He predicts the company will sell 1.1 million Mac Pros in 2014, compared with 300 million iPhones and iPads.
Google, Lenovo
Other large technology companies have also been doing more work in the U.S., yet few have begun manufacturing components in the country. Google, which makes the rival Android mobile operating system and Motorola smartphones, has been assembling its Moto X device at a Flextronics International Ltd. factory near Fort Worth, Texas, hiring more than 2,000 people. In June, Lenovo said it was adding 115 people to work on final assembly of PCs in Whitsett, North Carolina.
"We are designing, engineering and assembling Moto X in the USA," Gabe Madway, a spokesman for Motorola, said in an e-mail. "Our parts come from all over but are assembled and in some cases made in the U.S."