One of the best things about Android is how easy it is to customise just about every aspect of your device. Nothing shows this quite as well as the very many launchers you can download on Google Play. Launchers are basically apps that let you completely change the look of your 'home screen' – the interface that you see when you press the home button.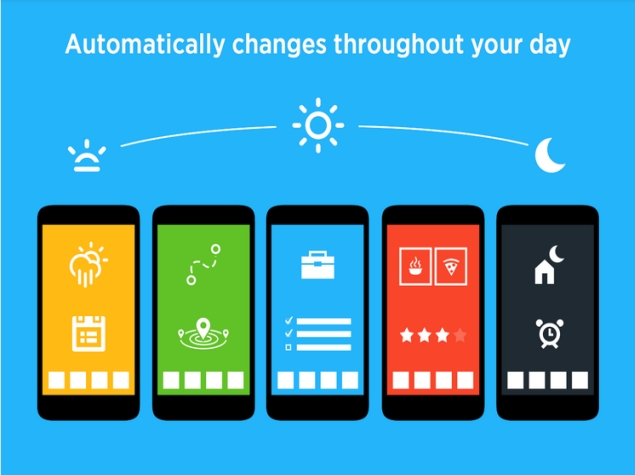 However, Launchers are more than just themes – they don't just let you change icons or make other purely cosmetic changes. Launchers can customise every transition and animation, change the grid or even replace the app drawer with a smart interface that presents the apps you need, before you even knew you wanted them. With so much to choose from though, it can be hard to find the right launcher for you – but we can help.
Here are our top Android launcher picks.
For the tweaker
There are plenty of Android launchers that let you customise the user interface but if you're a compulsive customiser, then the choice is actually pretty simple. You need to get Nova Launcher.
Nova Launcher
You can't talk about Android launchers without talking about Nova Launcher. This has been one of our favourites for a long time because of the insane level of customisation it offers. You can tweak everything from the margins around app icons to the scroll icon on the home screen. You can install widgets in the dock, make a scrolling dock, or change the icon grid. It may be a little intimidating for some, but if you love tweaking your phone, you've got to use Nova Launcher. And because of how popular the app is, you'll find lots of guides and other resources like icon packs designed to work with this launcher.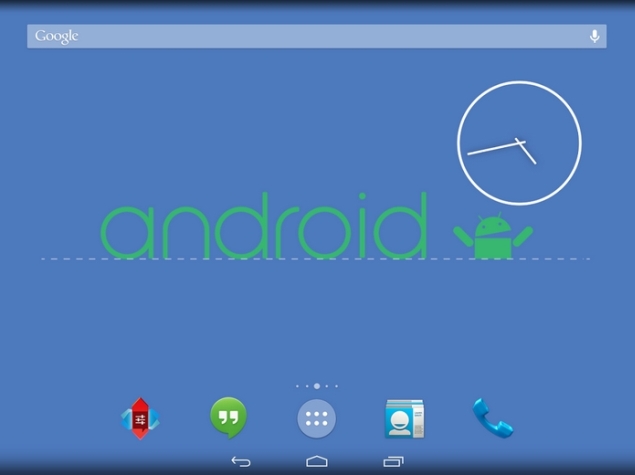 However, we've also installed Nova in the past to replace launchers that come pre-installed on some low-end phones and just forgotten about it. It's still a competent launcher even if you don't like messing around with settings and the best part is it's almost always a step-up in terms of performance.
What you want, before you want it
If you don't want to spend too much time customising the phone, then there are some really interesting apps that can optimise your phone for you. EverythingMe Launcher and Yahoo Aviate both track how you're using your phone, and automatically arrange apps to help you get to the ones you want before you even knew you wanted them.
EverythingMe Launcher
EverythingMe is a smart launcher app that sorts all your apps based on your usage. It makes apps you frequently use appear on your default home screen and sorts similar apps into smart folders automatically. This works surprisingly well and is one of our favourite Android launchers. On the home screen, you'll see a dock of apps at the bottom that is based on your usage, and you'll see smart folders like Games, Shopping, Photos and so on, where the relevant apps are sorted for easy access.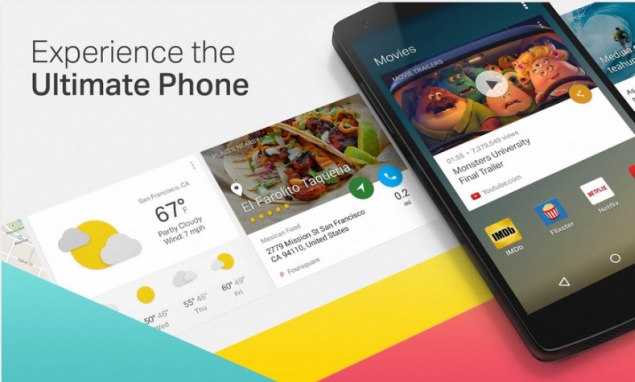 There's also a unique search function – in the search bar, type in whatever you're thinking of at that point, and your background will change to reflect that interest. Your home screen will be populated with relevant apps and content stored locally on your phone, along with related apps you can download, and links to relevant webpages.
Download EverythingMe Launcher
Yahoo Aviate Launcher
Yahoo Aviate (pictured on top) is another intelligent launcher app that organises your home screen based on your preferences. Unlike EverythingMe Launcher, Aviate ditches the home screen grid and instead shows you a highly simplified layout, with apps sorted by category into scrollable rows. The apps it offers up vary as per the time of day and location, and so you'll see different apps when you're driving to work, and different apps when you're settling into bed to read up at night.
At first, these suggestions are based only on the apps you've installed, but as you keep Aviate as your home screen for longer, the app also learns from your behaviour and starts to make more contextual recommendations. You can still see the list of all apps by swiping to the right-most screen, or get to a Google Now-like card interface of widgets on the extreme left. Aviate also supports icon packs, which means you can quickly change icons of several apps at once by just downloading new packs from Google Play.
Download Yahoo Aviate Launcher
Now for Google Now
If you want a smarter home screen but don't necessarily like the idea of an app rearranging all your icons, then launchers like Aviate and EverythingMe aren't the right choice.
Google Now Launcher
This is the default launcher on Nexus and Android One smartphones, and can be installed on other devices too. It is a great choice if you want to move from manufacturers' bloated launchers to a stock Android experience. For the most part, Google Now launcher is only giving you the basic Android experience, and that's actually pretty good for most people. But there are some extra features that make it worth trying out.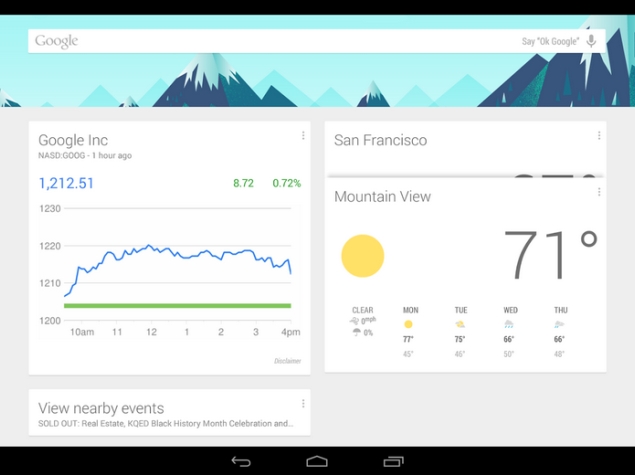 For one, it dedicates an entire screen for Google Now, which will please those who use Google's app. The Now Cards have steadily been getting more useful, and that makes this launcher pretty handy. Add to that the fact that you can say Okay Google to launch search at any time, and it becomes really easy to use with minimal taps.
Simplify everything
If you're getting overwhelmed by seeing too many things on your screen and don't like the unpredictability of launchers like EverythingMe then there are some really nice simplified launchers you can try out as well.
Smart Launcher 2
Smart Launcher 2 will appeal to minimalists who dislike multiple cluttered home screens. It just shows the date and time and six icons (the number can be changed) in a circle (camera, photos, messages, music, phone and browser) on the home screen.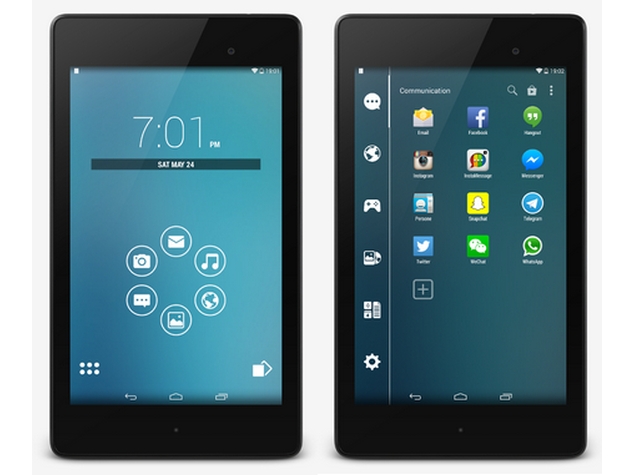 It puts all other apps in the app drawer, where they're grouped by category. It occupied just 3.73MB space on our phone, which is a big plus. This lets you focus on the basic functions of your phone through a busy day, without distraction.
Wiser
Wiser is a really basic launcher that will appeal to those who find smartphone UI too complicated. Its home screens have just six big icons each, where you can execute common actions such as phone, messages and pin up to six of your favourite contacts.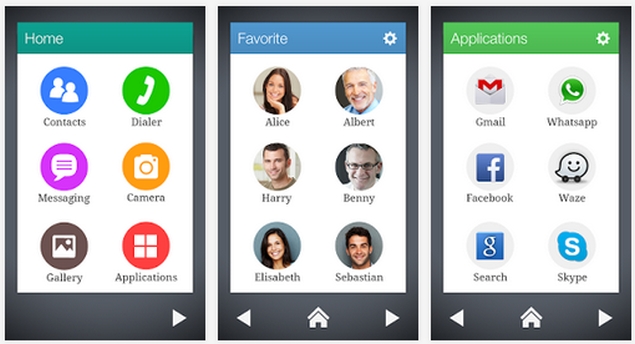 It has two more screens where you can pin up to 12 apps. Wiser is a pretty basic launcher, and not for everyone, but we would recommend this launcher for the elderly or anyone who is uncomfortable using their smartphone.
Hola Launcher
While any people prefer the fact that Android allows them to keep some apps hidden away in the app drawer, if you're coming from an iPhone then the switch can be a little disorienting. Hola Launcher is best for those looking for an iOS-like theme with no app drawer.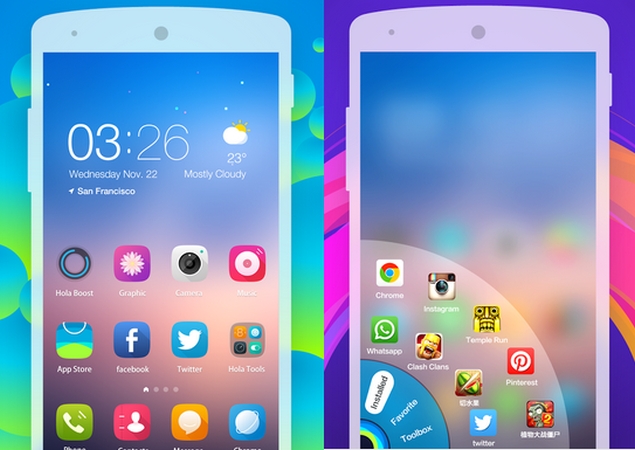 It groups apps automatically to ensure that you can find the ones you're looking for easily. It also has a bunch of cool transition effects for those who like flashy animations.
These are the best Android launchers available on Google Play in our opinion, but there are some more you might want to try. Buzz Launcher has a nice theme with square icons grouped in the centre of the home screen. It's great for those obsessed with multiple neat home screens. Zero Launcher and Apus Launcher offer more ways to get an iOS-like experience on your Android smartphone. Solo Launcher has some great customisable gesture controls and beautiful widgets.
Which are your favourite Android launcher apps? Let us know via the comments.