Micromax is one of the most popular Indian smartphone manufacturing companies. It holds second positions in the list of largest smartphone vendors in the Indian market. The company has provided the market with a wide variety of highly functional and brilliant handsets that have been practically priced. Micromax is one of the most well known names in the budget smartphone and mid range smartphone segments. The company is working immensely hard to ensure that it soon overtakes Samsung and grab the top spot. With Hugh Jackman as their brand ambassador the company is increasing its reach to attract foreign markets as well.
To keep its customers happy, Micromax does not only focus on the handsets it is making but on the overall product and consumer satisfaction. It strives to provide its customers with the latest technology. Keeping this in find, rumor has it, that the company is going to offer Android 4.4 KitKat upgrade on some of its smartphones while a few will be receiving Android 4.1 Jelly Bean upgrade.
The 11 Micromax Canvas handsets that are expected to receive the Android 4.4 KitKat update include:
Micromax A110 Canvas 2
Micromax A110Q Canvas 2 Plus
Micromax A111 Canvas Doodle
Micromax A114 Canvas 2.2
Micromax A116 Canvas HD
Micromax A116i Canvas HD
Micromax A117 Canvas Magnus
Micromax A200 (yet to be launched)
Micromax A210 Canvas 4
Micromax A240 Canvas Doodle 2
MicromaxA250 Canvas Turbo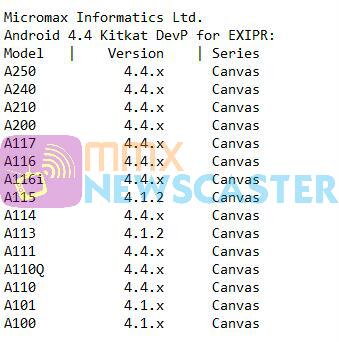 On the other hand, the Micromax Canvas smartphone that are likely to receive Android 4.1 Jelly Bean update include: Micromax A100, Micromax A101 and Micromax A115 Canvas 3D. The exact date from when the update will be accessible has not been disclosed yet. Also, this news has not been officially confirmed by the company. However, if it is true, then the Canvas users will be quite delighted. And Micromax as a company will garner a lot of support from the Indian audiences.