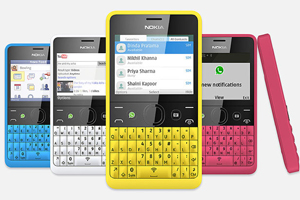 Nokia today unveiled the latest device in its Asha family – Nokia Asha 210. Available in single- or easy Swap dual-SIM variants, the Nokia Asha 210 has a QWERTY keyboard and a dedicated WhatsApp button for fast access to instant messaging.
To celebrate the Nokia and WhatsApp partnership, WhatsApp is offering their service for free on all Nokia Asha 210 devices with the WhatsApp button for their lifespan.The Nokia Asha 210 comes with a 2 megapixel camera that can be accessed through a dedicated hardkey even when the keypad is locked.
People can also share photos and other content quickly by using Nokia's innovative Slam feature, which comes built-into the Nokia Asha 210. It works by enabling the transfer of content such as images or videos to another Bluetooth-enabled phone without the need to pair devices.
The Nokia Asha 210 is available in yellow, cyan, black, magenta, and white. The estimated retail price for the Nokia Asha 210 is around $72 and it is expected to start shipping in the second quarter of 2013.