Google's most slim and beautiful looking device which looks after all your requirements is the most sought handset in the competitive market. Let us discuss on its features in details: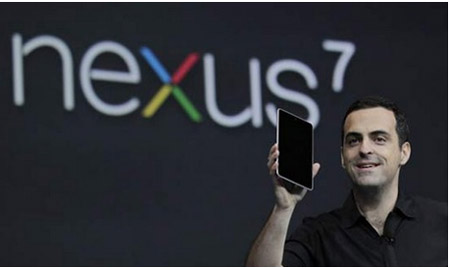 Thin, light & portable:
It is pocket-sized and yet a powerful device.
At only 12 oz, Nexus 7 is the lightest 7" tablet on the market today, but boasts the entire premium features hand-in-hand. It has a compact but crystal clear HD display, 1.2 megapixel camera, and both WiFi and bluetooth connectivity.
With the latest version of Android it does doing no compromise with the technology. A stunning 7-inch display, powerful quad-core processor, and up to 10 hours of web browsing or 300 hours of stand-by time, Nexus 7 is built for high performance usability.
Entertainment focused:
You have apps and games at your fingertips with Nexus 7. With Google, have all the entertainment you love is just one tap away. With over 700,000 apps and games, there's something for everyone.
Nexus 7 is specifically designed with gaming in mind. With heart pounding quad-core performance and sensors like a gyroscope and accelerometer — do a barrel roll then tilt, touch and tap your way to the top of the leader-boards while exploring the growing selection of tablet optimized apps and games on Google Play.
Google apps in your palm:
Nexus 7 comes with all of Google's best in class Apps; like Gmail, Chrome, Google+ and YouTube. When you search for the right information, Nexus 7 fetches you all that with a tap away. It tells you today's weather before you start your day, how much traffic to expect before you leave for work, or if your flight is delayed. All of this happens automatically, with cards appearing at the moment you need them.