The Moto X was the first to set on a crusade to prove that high-end smartphones go beyond the number of cores and pixels. Now we have the Moto G on a mission to let everyone know that affordability doesn't necessarily imply crippled functionality. The Moto X was unusual enough to be reasonably successful despite its hefty price tag. The Moto G, on the other hand, is priced to move quickly and will be keeping the competition on their toes.
Not that it will get complacent because of it, like most of the smartphones priced at around the same level do. The Motorola Moto G will bend over backwards to serve you properly and its list of features stretches far longer than most in this price range.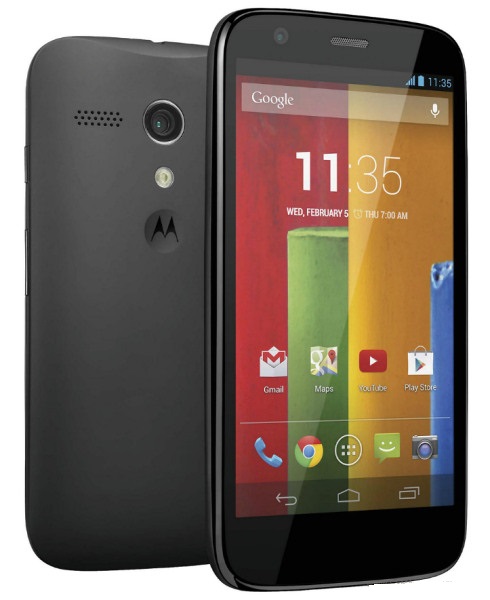 Key features
Quad-band GSM/GPRS/EDGE; quad-band UMTS/HSPA support
4.5″ 16M-color 720p IPS LCD capacitive touchscreen with 326ppi pixel density; Gorilla Glass 3
Android OS v4.3 Jelly Bean with Android 4.4 update reportedly coming as soon as January 2014
Qualcomm Snapdragon 400 chipset with quad-core 1.2GHz Cortex-A7 CPU; Adreno 305 GPU
5 MP autofocus camera with LED flash
720p video recording @ 30fps with HDR, continuous autofocus and stereo sound
1.3 MP front-facing camera
Wi-Fi b/g/n; Wi-Fi Hotspot
GPS with A-GPS; GLONASS
8/16GB of built-in storage; 1GB of RAM
microUSB port with USB host
Bluetooth v4.0 LE
Standard 3.5 mm audio jack
Ambient light; accelerometer; proximity sensors
Active noise cancellation with dedicated mic
50GB of free Google Drive storage
2,070 mAh battery
Excellent speaker loudness
Main disadvantages
Limited non-expandable storage
Non user-removable battery
Questionable camera image quality, limited camera settings
It's abundantly clear that the Motorola Moto G ticks way more boxes than a smartphone of its standing is expected to. Some might argue that it's a luxurious strategy that can only be employed because Google will make profit off software services and not the actual hardware. Well, from a user's perspective (and that's the only one we care about) this point is irrelevant as all that matters is what you are getting for your money. At least on paper, the Moto G is plenty of smartphone for the price.
Some corners needed to be cut of course, but since Motorola could afford to give up immediate profits, the hardware didn't take as bad of a hit as it normally would have. We get a base-level chipset of course, but it's of the latest Qualcomm lineup and it should do just fine paired with a 720p screen. And since it requires less power and there's a smaller screen here, Motorola might easily get away with the smaller battery. The unmatched body customization options of Moto X are gone too, but the (very cheaply) replaceable back covers still let you add your personal touch to the smartphone. A well rounded package indeed.
The styling of the Motorola Moto G is clean and efficient (even subdued), as if to make a point that it's a device you're going to use, not show off. Even the vanilla Moto X is quite understated – if you decide to skip using the customizing powers of the Moto Maker. Overall, unlike the Motorola smartphones of old, which tended to be overdesigned, this one bets on simplicity, combining traditional materials and flowing lines.
The result is quite good though and even the fact that the Moto G uses two different kinds of plastic for its front and back panels on our black version doesn't spoil the looks. It's clearly not what you'd call an attention-grabber, but that's hardly ever an option when shopping in this price range.
Decent build and acceptable looks are par for the course here and the Moto G over-delivers on both. It's certainly a well put together phone that makes no disturbing sounds of any kind when handled and gives the impression that it will have no trouble keeping it up in the long run. There's Corning Gorilla Glass 3 over the screen for scratch and shutter resistance, while the back can easily be replaced if it gets some damage.
Speaking of replacing the back panel – that's only as far as the Moto G will go in terms of customization. It's not nearly as impressive as the Moto Maker for the Motorola Moto X, but it's still an option and it does have its benefits. The option to replace a scratched back panel with a fresh new one we already covered, but there's also the feature of being able to change your mind after you've purchased the phone.
You can customize the Moto X all you like, but once you get it that's it, whereas you can buy new panels for the Moto G as you please to freshen up your smartphone. Those are pretty cheap too – can get them online for about €10 a pop.
As for the handling, despite its less than slender profile and considerable heft, the Motorola Moto fits nicely in your hand and is not a problem at all to operate it single-handedly. The curved back with matte plastic allows for a great grip too, so accidental drops aren't very likely.
Battery Life
The Moto G features a 2,070 mAh battery, but Motorola didn't specify how long it is expected to last. The capacity isn't too big, but given the efficient chipset and relatively small screen we were quite optimistic about its prospects.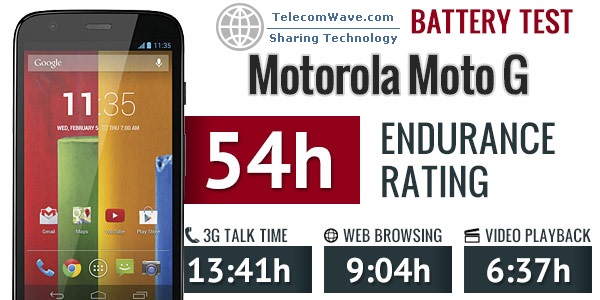 The Moto G duly delivered and posted an endurance score of 54, meaning it will last for more than two full days if you do an hour of calls, an hour of video watching and an hour of web browsing each day. The achievement is also much better than what the Moto X managed, but that one had the always on voice commands eating into its endurance.
Display
The Motorola Moto G 4.5″ 720p display is one of its most potent weapons in the fight for survival in the overcrowded mid-range. Having a pixel density og 326ppi, the IPS LCD matches the Apple Retina screens and is by far the sharpest display in the price range.
It's not just the pixel count either – the Moto G screen also impresses with very good contrast and nice color rendering. Viewing angles are also very wide with everything remaining perfectly legible even when you go to extremes. There is some color shift, but even so the display is way better than we've come to expect in this price range.
Our only gripe is the white balance, which is a bit on the cold side, but that's nitpicking really.
Display test
50% brightness
100% brightness
Black, cd/m2
White, cd/m2
Contrast ratio
Black, cd/m2
White, cd/m2
Contrast ratio
Motorola Moto G
0.35
315
906
0.57
550
967
Sony Xperia C
0.18
151
842
0.66
639
962
Oppo R819
0.56
607
1078
0.62
754
1210
Samsung I9082 Galaxy Grand
0.37
382
1040
0.62
586
948
Huawei Ascend P6
0.14
136
986
0.62
670
1080
Apple iPhone 5
0.13
200
1490
0.48
640
1320
The front display glass isn't too reflective either, which means the Motorola Moto G screen also does pretty well in direct sunlight. An admirable overall performance indeed.